English
1 The case of Liam Allan
Liam Allan: a 19-year-old criminology student (January 2016) about whom there was no doubt – not the slightest doubt – is

the template of the website

(second item menu bar).
Liam Allan is the textbook example of

how one can effortlessly make a justice issue out of something that does not exist, in order to fool everyone – including Justice – for the sake of sport.

In a spirit of foolishness; as 'the blind leading the blind', the Justice Department falls into the trap!
Dutch
English
Notice

Nobody

has asked Liam if he did this,

because they know he is not the person to do such a thing

, as he explains in the BBC videos on this website.
His mother says in these BBC videos: I wondered if I saw my son like a rose through a tinted glass.
At the court hearings there were up to 15 people present to support Liam (they had even taken a week off). No one for the other side, and so on and so forth …

The case is simplicity itself.

A lack of resources cannot be the reason, for which Liam lists the reasons, nor his doubts about what happened to the DVD! ('disclosure of information' as it is officially called).
There was not even a possibility to appeal, as the prosecutor explains in the video 4 in the first 4 minutes: where is the DVD? …

The coincidence is that at the very last moment it is that prosecutor, Jerry Hayes, who steps in and turns the tide.

Even if there is no charge or guilt at all, sometimes in the justice system it is 'make or break'.

This is just absurd.

It could happen to anyone.

Are these not eight pieces of data that raise eyebrows?


After all, you cannot portray a person as something he clearly is not!


In such a situation, you have the unavoidable basic question: "Is there anything unclear?"
Relevant 'Prosecuting barrister Jerry Hayes says

the case against Liam Allan came very close to being a miscarriage of justice

'.

This is an unthinkable tragedy

, all the more so because of the obvious data in the file, it should never have been possible to prosecute Liam and bring him to justice.
Justice sometimes resembles a disrupted public transport timetable during a strike, or a candid camera-like event where an innocent passer-by falls into the trap, harmlessly.
Dutch
Prosecutor 

Jerry Hayes

:
"It's just sheer incompetence."
This is 'The End of Normal'.
Justice and reality come face to face! 



2 The way justice is unfortunately used with Liam Allan is applicable to:
25 years Innocent behind bars
39 years Innocent behind bars
30 years Innocent behind bars
6 years Innocent behind bars
10 years Innocent behind bars
7 to 13 years innocent behind bars
9 boys 13 to 17 years old – innocent behind bars
Age 14, Executed innocent via electric chair!!!!
43 years Innocent behind bars
Horrible
Inconceivable
Inconprehensible
Unthinkable

In other words:
it is a legal system that is decidedly wrong.
The law has been carried out wrongly.
There was obstruction to the course of justice.

(= preventing the law being put into action).
They are victims of a miscarriage of justice
(= when the law has been carried out wrongly).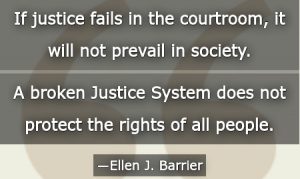 Rowing harder doesn't help if the boat
is headed in the wrong direction.
KENICHI OHMAE
English
Flaws, imperfections, gaps, mistakes or errors, tunnel vision, loopholes and so on in the justice system can cause a crash.
A broken justice system destroys people's lives.
It causes enormous chaos.
Liam Allan was falsely accused: 'I've spent two years living in fear'!
– – – – – –
There is a time people speak to each other…
To have the courage to discuss something with an open mind.
To consult an honest person when, out of the blue, a completely contradictory and incoherent legal issue arises.
– – – – – –
A perversion of justice
(to act illegally to avoid punishment or to get the wrong person punished).
The weakest link of justice is: 'choosing the wrong path and fooling yourself little by little in order to end up with a fatal crash'.
In other words, the pendulum swings too far in the wrong direction, even if there is no case!
Justice is becoming a substitute for Diererik Stapel's science fraud (Part 2), the case is being manipulated:
'… chooses the wrong path and little by little he twists himself in front of his own eyes and ends up crashing like a pig in a poke'.(as already told a few lines before)
One prevents the puzzle pieces from falling nicely together.
It is an Achilles' heel of justice.
Justice is a double-edged sword.
Isn't the conclusion of the website: 'protect people from themselves a bit'?
The conscience!
The moral compass!
Humanity!
– – – – – –
The question is, does it ever happen that there is a toxic culture in the justice system? (Considering examples on this page!)
Justice does not have the aura of perfection; on the contrary, justice can easily be misused in an unrestrained way by creating a camouflaged image, abuse of power, the blue screen of silence and what so ever!
But when you obviously do not belong there,
as night follows day, the court's decision has to be a victory of common sense.
Dutch
Wrongfully convictions in The Netherlands
Such despicable people have no conscience.
The evidence that sent them to jail for 22 years was false
– the Mickelbergs brothers were framed by the crooked cop.
It's as clear as day this is the worst of all worlds.
How can we blatantly ignore the needs of our fellow human beings?
… using anything and anyone under the cover of justice to cause pure evil,
blatantly contrary to your conscience.

Clear as day
Very easy to understand:
The instructions were as clear as day.
Certain:
It's as clear as day that the government is going to win the election.
Cambridge Dictionary
The worst of all​ worlds
Egregious
Mind-boggling
Blatantly
Inconceivable
Decidedly