Used to describe a situation where a person who knows nothing is getting advice and help from another person who knows almost nothing.
Cambridge Advanced Learner's Dictionary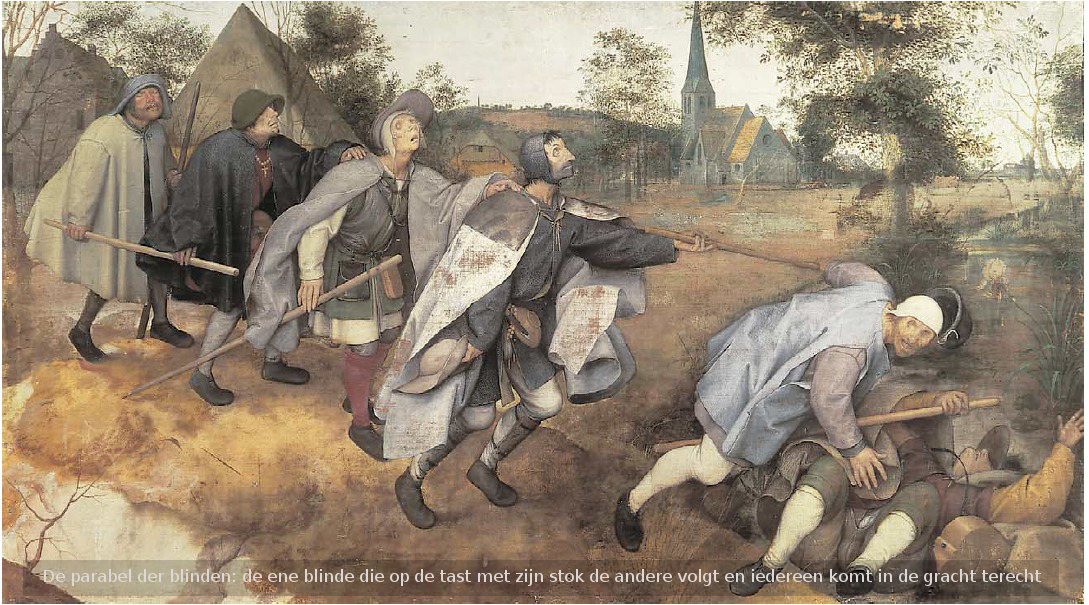 The parable of the blind: one blind person following another by touch with his stick and everyone ending up in the ditch.
De parabel der blinden is een schilderij van Pieter Bruegel de Oude, gemaakt rond 1568
The Parable of the Blind is a painting by Pieter Bruegel the Elder, created around 1568
Pieter Bruegel's 1568 oil painting, often called The Parable of the Blind, is what appears to be
a literal depiction of a line of blind people following each other and stumbling into a ditch, as forecast in Matthew 15:14.
 "Let them alone: they be blind leaders of the blind.
And if the blind lead the blind, both shall fall into the ditch."
In these words of Jesus, we see the guilt of those who are blind leaders of the blind.
We also see the responsibility of followers to make sure their leaders are not blind.
THE BLIND LEADING THE BLIND
Uninformed and incompetent people leading others who are similarly incapable.
Abiding in the midst of ignorance, thinking themselves wise and learned, fools go aimlessly hither and thither, like blind led by the blind.
Volharden in onwetendheid, denkend wijs en geleerd, zoals gekken doelloos naar hier en daar, zoals de blinde de blinde leidt.
1 Waarover gaat de website?
Liam had no idea his world was going to be turned upside down.
De website gaat over iets waarvan men zich niet kan voorstellen dat het kan gebeuren.
Er wordt een fout gemaakt en het leven gaat van het ene uiterste naar het andere uiterste.
Het gehele systeem blokkeert i.p.v. dat men ziet wat er werkelijk aan de hand is.
Mensen die zich een oordeel vormen, laten zich schaamteloos misbruiken door de context waarin ze functioneren.
Er is de tegenstelling tussen het beeld van hoe de samenleving wordt voorgesteld en hoe de samenleving werkelijk functioneert.
Soms volstaan doodgewoon eerlijkheid en menselijkheid om een krom gebeuren te doorbreken – om het speeltuigje die men er van maakt te doen stoppen.
De website gaat over

mensen die vast geraken

in

 

iets die structureel niet kan,

iets die

 niet kan gebeuren.


Het onmogelijke wordt werkelijkheid. Dit is het drama!
Men kan zich vragen stellen: hoe kan dit gebeuren?
1 What is the website about?

Liam had no idea his world was going to be turned upside down.
As a criminology student, Liam became completely trapped in something that did not apply to him.
Nobody asked him if he did this! He is just not the person to do such things:
BBC video 1 makes this point clear from about minute 5 45″.
The website is about something that one cannot imagine can happen.
A mistake is made and life goes from one extreme to the other.
The whole system blocks instead of seeing what is really going on.
People who make judgements allow themselves to be shamelessly abused by the context in which they operate.
There is the contradiction between the image of how society is presented and how society actually functions.



Sometimes, simple honesty and humanity are enough to break through a crooked event – to stop the plaything that people make of it.

The website is about

people who get stuck

in

something that is structurally impossible

, something that cannot happen.


The impossible becomes reality. This is the tragedy!




One can ask oneself: how can this happen?
Rowing harder doesn't help if the boat
is headed in the wrong direction.
KENICHI OHMAE
2 Short table of contents
Part 1:

Liam Allan: the perfect metaphor for the content in the bundle on paper.
It's just sheer incompetence according to the prosecuting barrister Jerry Hayes.

Het is gewoon pure onkunde (onvermogen, onzin).
C'est juste de l'incompétence pure et simple.

Part 2

:

Diederik Stapel op de 6e plaats op de wereldranglijst voor wetenschapsfraude: compleet verzonnen onderzoek
werd jarenlang prominent gepubliceerd o.a. in Science en hij kreeg een wereldvermaard podium!

Diederik Stapel in 6th place on the world ranking for science fraud: completely fabricated research
was prominently published for years, e.g. in Science, and he was given a world-famous podium!

Part 3:
Robert Jones wrongfully convicted.
The whole story in a 5 minutes BBC video 2. 
Liam Allan 
Diederik Stapel
Robert Jones


Three things that could not happen but became reality. 
What could not happen and yet became reality is further made clear on the following web pages Wrongfully Imprisoned:
Micheal Morton
We really do live in an unfair world.
17 okt. 2016
What kind of mother would pour pure rum in her baby's bottle? The same kind of mom who loves to prank people 😉 
We're telling you, it is a pretty good trick to make your lovely baby go to sleep in a matter of seconds.
Please enjoy the video's and televisie broadcastings fullscreen: 
Fullscreen buttom right below in the window of the video after you start the video