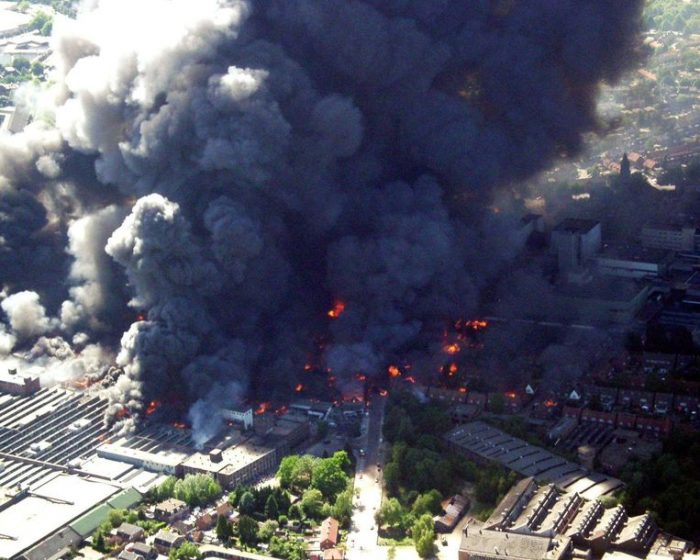 The Firework disaster in Enschede, also known as the Enschede fireworks disaster, occurred on May 13, 2000, in the city of Enschede, in the eastern part of the Netherlands. The key points about the disaster are:
Cause: The disaster was caused by a fire at a firework storage facility in the city. The fire ignited the fireworks, causing a series of explosions that devastated the surrounding area.

Casualties: The disaster resulted in the deaths of 23 people, including four firefighters, and injured more than 1,000 people.

Damage: The explosions caused extensive damage to buildings and infrastructure in the surrounding area, including destroying more than 400 homes.

Investigation: An investigation into the disaster found that the storage facility was illegally operating, with inadequate safety measures in place.

Legal proceedings: Following the disaster, a number of people were prosecuted for their role in the illegal storage and transport of the fireworks. The company responsible for the storage facility was also fined heavily.

Rebuilding: In the aftermath of the disaster, a significant effort was made to rebuild the affected areas of the city. This included the construction of new homes and public facilities, as well as the implementation of improved safety measures to prevent similar incidents from occurring in the future.
1 Discovery Channel: Enschede (Deel: 1)
25 apr. 2012
Beelden gemaakt door de Enschedese fotograaf Robert Hoetink direct na de vuurwerkramp op 13-05-2000 te Enschede, in de straten rond het gebied waar de explosie plaatsvond. U ziet de reactie van de mensen, de schade, en de politie en brandweer aan het werk.
A local photographer filmed the area where the fire factory explosion on 13-05-2000 in the Netherlands just happened. You see the reaction of the people, the damage, and the police and firefighters at work. Please subscribe!
3 De geheimen van Enschede (SIMON VUYK).
4 Pauw & Witteman – Simon Vuyk over vuurwerkramp
26 apr. 2010
Journalist Simon Vuyk onderzocht voor Revu en SBS de vuurwerkramp in Enschede. In 'De waarheid achter de vuurwerkramp' schrijft hij dat de ramp een ongeluk was, maar dat de vuurwerkfabriek nooit in een woonwijk had mogen staan. TNO deed in een rapport aanbevelingen voor regelgeving van vuurwerkopslag. Als deze aanbevelingen waren opgevolgd zou de fabriek niet in een woonwijk hebben gestaan en waren licht en zwaar vuurwerk niet samen opgeslagen. Het ministerie van Verkeer en Waterstaat heeft altijd verklaard dit TNO-onderzoek nooit te hebben ontvangen, maar volgens Vuyk blijkt uit een verzendlijst van TNO dat het onderzoek wel degelijk verstuurd is.
5 Oud-rechercheur Paalman: 'Had ik me maar stil gehouden over vuurwerkramp'
6 Intervieuw Jan Paalman 2012 tbv Rens Weustink
7 Documentaire vuurwerkramp: Terug naar 13 mei 2000
14 mei 2010
In deze speciale reportage wordt terugegaan naar 13 mei 2000 waarop SE Fireworks in Enschede tot ontploffing kwam. Van de ontploffing tot de grote herdenking passeren verschillende zaken de revue, waaronder de eerste beelden van het rampgebied, de onzekerheid over het aantal doden, het bezoek van Koningin Beatrix, de geschokte reacties van politici en de eerste herstelwerkzaamheden.
8 Barend & Witteman: Rudi Bakker over de vuurwerkramp
3 jan. 2014
Dagelijks live praatprogramma met gasten en publiek, afwisselend gepresenteerd door Sonja Barend en Paul Witteman, vanuit Mediacafé Plantage te Amsterdam.
In deze aflevering praat Sonja Barend met R. Bakker, dir. S.E. Fireworks, en J. P. Plasman, advocaat van Bakker, over Bakkers vrijspraak door de rechter n.a.v. de vuurwerkexplosie in Enschede.
Aan de orde komen o.a. de vraag of de overheid verantwoordelijk is voor de ramp, de veelvuldige inspecties van de fabriek door de overheid voorafgaande aan de ramp, de mogelijke oorzaak van de ramp, André de V. en de heer Smallenbroek als mogelijke verdachten van brandstichting, en de invloed van de ramp op Bakkers sociale leven en gezinsleven. Uitgezonden op 03 april 2002.
9 Directeur S.E. Fireworks Rudi Bakker: "Ik ben opgeofferd" | RTV Oost


13 mei 2020
Het moment dat Rudi Bakker op 13 mei 2000 het terrein van z'n vuurwerkfabriek aan de Tollensstraat op loopt vergeet hij nooit meer. "De officier van dienst snauwde dat ik weg moest. Ik heb geprobeerd mensen weg te krijgen, maar dat lukte niet. Tien minuten later ontplofte de boel en was ik schuldige."
|| Volg ons ook op social media! ||
Download onze app om op de hoogte te blijven van het laatste nieuws uit Overijssel
|| Wie zijn wij? ||
RTV Oost is de regionale omroep voor Overijssel. Gebeurt er iets in Overijssel, dan zie je het bij RTV Oost. Natuurlijk als eerst in onze app, op de website en op social media, maar ook op radio en televisie.
Heb je een nieuwstip? Tip de redactie via een WhatsApp-bericht: 06 – 57 03 33 33.
10 Vuurwerkramp en de vervalste bewijslast; Hans Moll en Paul van Buitenen
6 nov. 2017
"De feiten terugdraaien om te kunnen verklaren wat er is gebeurd en met bewijs rotzooien. TNO heeft bijvoorbeeld open en bloot materiaal vervalst."
Paul van Buitenen is klokkenluider en praat met Hans Moll over de vuurwerkramp in Enschede op 13 mei 2000. Van Buitenen deed de afgelopen drie jaar onderzoek naar de oorzaak van de ramp en de rol van de overheid tijdens en na de ramp. Centraal staat de vraag; kloppen de conclusies dat de overheid in al haar geledingen geen schuld valt toe te kennen? Anders gezegd; de fouten liggen uitsluitend bij S.E. Fireworks? Van Buitenen komt met pijnlijk andere conclusies.
Help Café Weltschmerz en onze toekomst met een donatie of adopteer een aflevering: NL23 TRIO 0390 4379 13. Doneren kan ook via crypto-currencies; www.cafeweltschmerz.nl/doneer/
11 De vuurwerkramp en het frustreren van waarheidsvinding; Marcel van Silfhout en Paul van Buitenen
21 jan. 2019
Voormalig klokkenluider en Europarlementariër Paul van Buitenen heeft de afgelopen 4,5 jaar het officiële onderzoek van de vuurwerkramp in Enschede onderzocht. De aanleiding was het rapport van de rijksrecherche. Daarin kwamen een aantal feiten boven tafel die in het officiële eindrapport over de ramp werden verzwegen.
📌Help Café Weltschmerz met een donatie of adopteer een aflevering: tnv Coöperatie Weltschmerz NL23 TRIO 0390 4379 13. Https://www.cafeweltschmerz.nl/doneer
Van Buitenen kwam tot de ontdekking dat zowel het officiële onderzoek als de conclusies slechts tot doel hadden, de overheid met haar verordeningen en toezicht vrij te pleiten van enige schuld. Men was niet bezig met waarheidsvinding maar met het aansturen naar een gewenst onderzoeksresultaat. Dit om miljarden claims te voorkomen. Om die reden werden de eigenaren op het schandblok gezet met valse verklaringen en het frauderen met getuigenverklaringen.
Marcel van Silfhout is onderzoeksjournalist, auteur, en voedselveiligheid- en spoorwegenexpert. Hij werkte voor regionale dagbladen (Utrechts Nieuwsblad. GPD) en Nederlandse televisie programma's als Zembla, Uitgesproken en De Ombudsman (VARA) en KRO Reporter.
In de afgelopen jaren schreef hij een aantal boeken, zoals 'Kookkaravaan, smaakroute door Marokko', dat in 2011 werd verkozen tot het Nederlands Kookboek van het Jaar. Ook Gourmand Cookbook Awards (Parijs, maart 2012) bekroonde 'Kookkaravaan' tot Best Cookbook in The Netherlands.
12 'Naming and shaming' door Paul van Buitenen over de Vuurwerkramp: Pim van Galen en Paul van Buitenen
10 jan. 2020
Nederlands bekendste klokkenluider schreef bijna zes jaar aan een 1400 pagina's tellend alternatief onderzoek naar de vuurwerk ramp in Enschede (13.5.2000) Conclusie : de overheid is nalatig geweest en had de ramp kunnen voorkomen. Tot 13 mei – 20 jaar na de ramp – brengt van Buitenen tientallen namen naar buiten van personen die rond het drama een kwalijke rol hebben gespeeld. Naam nr 1: officier van justitie Herman Stam.
Vandaag de eerste naam, niet op regisserend maar op uitvoerend niveau: de zaaksofficier van de strafvervolging van de Vuurwerkramp, toenmalig officier van justitie mr. Herman Stam. Mr. Stam is op dit moment senior rechter bij de rechtbank Overijssel, locatie Almelo. Hij werd indertijd verrassend benoemd als zaaksofficier op het grootste naoorlogse recherche-onderzoek van de Nederlandse politie.
Dit ondanks zijn gebrek aan ervaring op zulke onderzoeken. Hij kwam van de belastingdienst en de FIOD.  Dit is géén gerechtelijke dwaling. Het is een vooropgezet plan van elementen uit het overheidsapparaat om de Nederlandse staat te vrijwaren van wat zij zien als een belang van de staat. 
Hiermee start Van Buitenen de ontrafeling van wat tot nog toe de grootste misleiding van de rechterlijke macht is in de recente geschiedenis van de Nederlandse rechtsstaat.
13 Expertgroep Klokkenluiders wil parlementair onderzoek naar vuurwerkramp
14 J'accuse, de verzwegen feiten van de Vuurwerkramp


16 mrt. 2020
De vuurwerkramp in Enschede is bijna 20 jaar geleden, maar nog steeds vinden veel betrokkenen dat de waarheid in het verborgene ligt.
Oud klokkenluider en onderzoeker Paul van Buitenen was met direct betrokkenen te gast in studio Weltschmerz, gelegen aan de Haagse Hofvijver, pal naast het Torentje.
Paul overhandigde een petitie aan PVV Kamerlid Roy van Aalst, waarin een samenvatting van het 1400 pagina's tellend alternatief onderzoeksrapport, dat Van Buitenen binnenkort openbaar maakt.
Verdere sprekers: Rudi Pater, oud-eigenaar van SE Fireworks; Mathilde van der Molen, weduwe omgekomen brandweerman; Jan Paalman, oud-rechercheur Tolteam. Gespreksleiding Marcel van Silfhout.
NB LET OP!!! DEZE OPNAMES HEBBEN NOG NIET DE KWALITEIT DIE ONS VOOR OGEN STAAT. Wij verwachten dat de crew onze nieuwe studio in Den Haag spoedig onder controle heeft. In deze eerste opname in de nieuwe studio liet de (microfoon) techniek ons hier en daar in de steek, waarvoor onze excuses.
15 Van Buitenen over publicatie onderzoeksrapport vuurwerkramp
12 mei 2020
Op 13-05-2020 is het twintig jaar geleden dat de vuurwerkramp plaatsvond. Voor veel Enschedeërs een litteken, maar soms ook nog een open wond, omdat er ook nog veel vragen open staan. "Wat wordt hier verzwegen?", werd er meteen na de ramp al gevraagd. Een van de mensen, die antwoord probeert te vinden op die vraag, is klokkenluider Paul van Buitenen. 1Twente-journalisten Henk ten Harkel en Ernst Bergboer praatten, een dag voor publicatie van het onderzoeksrapport van Van Buitenen, met de klokkenluider.
16 Zo zag Roombeek eruit voor de vuurwerkramp
17 Interview vuurwerk:munitieramp Enschede 2000
18 "Klokkenluiders zijn loyale, maar naïeve mensen" ; Hans Moll met Paul van Buitenen
29 apr. 2017
Cafe Weltschmerz
Hans Moll in gesprek met klokkenluider Paul van Buitenen: "Je werk, je huwelijk en je gezondheid; als het een beetje tegen zit verlies je ze alle drie."
Help Café Weltschmerz en onze toekomst met een donatie: NL23 TRIO 0390 4379 13.
Paul van Buitenen (1957) was in de jaren negentig werkzaam als ambtenaar bij de Europese Commissie. In deze functie liep Van Buitenen regelmatig aan tegen onregelmatigheden en fraude en maakte hiervan ook melding bij zijn superieuren. Toen hij ontdekte dat niets werd gedaan met zijn meldingen besloot Van Buitenen in december 1998 het Europees Parlement in te lichten met als uiteindelijk resultaat het aftreden van de Europese Commissie onder leiding van Santer.
Van 2004 tot 2009 was Van Buitenen namens zijn eigen opgerichte partij 'Europa Transparant' lid van het Europees Parlement. Van Buitenen was daarna actief bij de 'Expertgroep Klokkenluiders' die zich onder andere hard maakte voor een wettelijke bescherming van klokkenluiders. De inspanningen van deze expertgroep hebben in 2016 geleid tot de Wet Huis voor Klokkenluiders.
In dit gesprek met Hans Moll vertelt Van Buitenen over de psychische en sociale druk waar klokkenluiders onder staan, zijn eigen 'David tegen Goliath', afluisterpraktijken en hoe hij naast de tegenwerking ook steun ontving uit onverwachte hoek.
In een volgend gesprek met Hans Moll zal Van Buitenen ingaan op de belangrijkste conclusies uit zijn drie jaar durende onderzoek naar het optreden van de overheid in een van grootste Nederlandse rampen van de afgelopen 30 jaar.
19 Klokkenluider doet aangifte tegen de staat om vuurwerkramp
28 okt. 2019
'Klokkenluider' Paul van Buitenen doet maandagmiddag aangifte tegen de Nederlandse staat en de gemeente Enschede wegens 'ondermijning van de rechtstaat' bij de afhandeling van de vuurwerkramp.
20 'Vuurwerkramp: nieuwe feiten aan het licht'
25 mrt. 2011
Onderzoeksjournalist Rob Vorkink bijt zich al jaren vast in het dossier van de vuurwerkramp in Enschede. Binnenkort komt hij met nieuwe bevindingen in een documentaire op RTV Oost.
21 De Vuurwerkramp (complete documentaire)
13 mei 2014
OP ZOEK NAAR DE ONDERSTE STEEN Op zaterdag 13 mei 2000, omstreeks
14:45
uur, brak er op het terrein van vuurwerkbedrijf S.E. Fireworks aan de Tollensstraat te Enschede een brand uit die uiteindelijk, circa 50 minuten later, werd opgevolgd door een aantal explosies.
Wie was daar voorafgaand aan het 'eerste vlammetje', wat heeft zich daar afgespeeld? Uit onderzoek blijkt dat het 'eerste vlammetje' veroorzaakt is door menselijk handelen. 'Wij hadden al gezien, die brand ontstaat niet zomaar', aldus onderzoeker Jan de Bruin van Bureau Interne Zaken van de Politie Gelderland-Midden.
12 apr. 2011
These really nice people agree to help some construction workers. No one asks any questions they just agree to help. Things start to get weird when they find themselves trapped in the wooden box. Maybe they should have asked why they were building a giant box in the middle of the street before getting into it.
JFL British Edition is a presentation of JustForLaughsTV, the official Just For Laughs Gags YouTube channel. Home of the funniest, greatest, most amazing, most hilarious, win filled, comedy galore, hidden camera pranks in the world!