The true lesson Martin Luther King teaches is the exact opposite of what many take away from hearing the words 
"The arc of the moral universe is long, but it bends towards justice."

Because that arc doesn't bend on its own. It takes effort. It takes action. It takes speech after speech, and march after march.
28 aug. 2013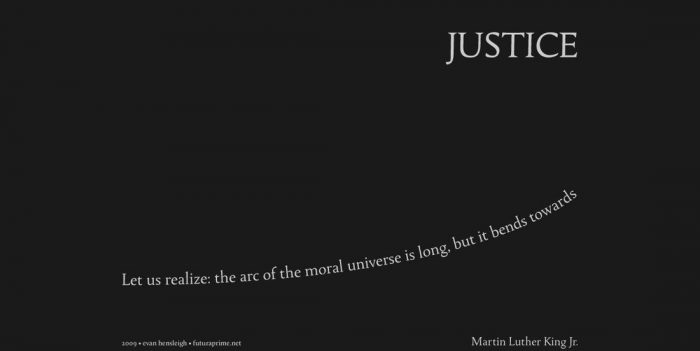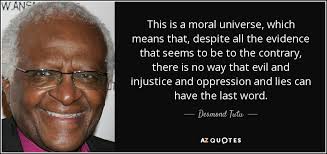 Het moreel universum is de rode draad doorheen de website.
Er wordt nagedacht aan de hand van elementen die een mens beroeren, raken en aanspreken.
The moral universe is the common thread throughout the website.
It reflects on elements that emotionally move, touch and appeal to a person.
1 Harriet Tubman: Soldier of Freedom
19 sep. 2019
Harriet Tubman: Soldier of Freedom is the heart-wrenching yet triumphant story of Harriet Tubman. Filmed on location on the Eastern Shore the film briefly shares the dramatic, difficult story of Tubman's life as an enslaved child and adult, her pursuit of freedom on the Underground Railroad, and her determination to end slavery and bring liberty and justice to others. The short film is a deeply moving introduction to the Harriet Tubman Underground Railroad Visitor Center exhibits and programs, highlighting all the things that were most meaningful and important to Tubman – Family, Freedom, Faith, and Community.
2 The Most Inspiring Speech: Don't Be Afraid To Fail – J.K. Rowling | Study Motivation
6 nov. 2017
This is an Incredibly Inspiring Speech from J.K. Rowling on how failure actually set the foundation for her success with the Harry Potter series. This motivational speech video is full of advice and inspiration to help you move on, and look at, failures differently.
BOOKMARK
3 Paying it forward, changing a homeless man's life forever for just $20.
8 nov. 2018
A rare animation Cel is found in a dumpster… we track down the homeless man who sold it to us and surprise him with half the profits cash and the rest in new clothes hotel and a trip home! Share this video! we are trying to get him some money through go fund me to get home to his family, and hopefully some rent money for a little while! He has agreed to appear on camera for us and be interviewed. we also were able to raise $18,000 with a go fund me for him after this video came out, thank you all for your support!
4 Innocence Project – Jerry Miller
13 nov. 2007
Illinois exoneree Jerry Miller discusses his 1982 wrongful conviction and the 24 years he was incarcerated for a crime DNA now proves he didn't commit. Jerry was the 200th person exonerated by DNA testing nationwide – learn more at www.innocenceproject.org
5 The 4 Brothers Who Were Nearly Starved To Death By Their Parents | The Oprah Winfrey Show | OWN
25 jan 2020
The 4 Brothers Who Were Nearly Starved To Death By Their Parents | The Oprah Winfrey Show | OWN
29 jun. 2019
Four brothers, who made headlines around the world, age 19, 14, 10, and 9, were found living in a house of horrors, nearly starved to death by their adoptive parents. In 2010, seven years later, the brave young brothers, opened up to Oprah about the horrific abuse and neglect they endured and shared their incredible survival story. 
6 "I'm A Criminal," Said Indian Transgender Activist. Barack Obama's Response
1 dec. 2017
In New Delhi for a town hall, former US President Barack Obama today had no dearth of tricky questions to answer. About forty-minutes into the event, a transgender rights activist's wringer about discrimination against the LGBTQ (lesbian, gay, bisexual, and transgender) community put the former US commander-in-chief especially close to the line of fire.
NDTV is one of the leaders in the production and broadcasting of un-biased and comprehensive news and entertainment programmes in India and abroad.NDTV delivers reliable information across all platforms: TV, Internet and Mobile.
7 The Greatest Trial The World Has Ever Seen | Ben Ferencz | TEDxTeen
28 aug. 2017
The last living prosecutor of the Nuremberg Trials passes the torch to this generation. TEDxTeen opening music by Madijuwon. Benjamin B. Ferencz was born in Transylvania in 1920 and moved to America when he was ten months old. After he graduated from Harvard Law School in 1943, he enlisted in the army. Under General Patton, Ferencz fought in every major battle of the war. He was later transferred to a newly created War Crimes Branch to gather evidence of Nazi brutality. When the war was over, Ferencz returned to New York and was subsequently recruited for the Nuremberg war crimes trials. Ferencz was named Chief Prosecutor for the United States in the Nuremberg "Einsatzgruppen Case." Twenty-two defendants were charged with murdering over a million people. Ferencz was 27-years-old and it was his first case. He then played a key role in negotiating and implementing German agreements to compensate victims of Nazi persecution. Since then, Ferencz has devoted his life to studying and writing about world peace and replacing the "rule of force with the rule of law." This talk was given at a TEDx event using the TED conference format but independently organized by a local community. Learn more at
https://www.ted.com/tedx
8 Ben Ferencz: The Only Surviving Chief Prosecutor from the Nuremberg Tribunals
26 jan. 2015
Presented by The International Humanitarian Law Clinic of Emory University School of Law January 25, 2015
9 Benjamin Ferencz '43, Receives HLS Medal of Freedom
12 nov. 2014
"Law not War:" A special event with Benjamin Ferencz, '43, Chief Prosecutor in the Einsatzgruppen case, Nuremberg Tribunal. Sponsored by the Harvard Law School Dean's Office and the Human Rights Program at Harvard Law.
10 Ben Ferencz, the last living Nuremberg prosecutor, turns 100
11 mrt. 2020
In 2017, 60 Minutes spoke with Ben Ferencz about his far-reaching message of peace for today's world.
11 Face In The Microwave Prank