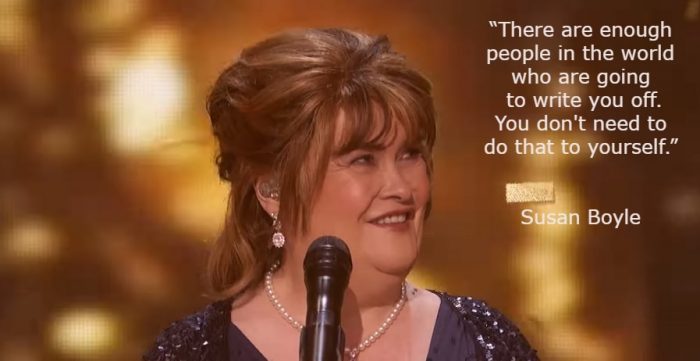 The point at which a situation is clearly seen to start to change:
The end of the Cold War was a defining moment for the world in more ways than one.
Cambridge Dictionary
You can't judge a book by its cover
Said to show that you cannot know what something or someone is like by looking only at that person or thing's appearance
Cambridge Dictionary
Here are some key points about Susan Boyle:
Early Life: Susan Boyle was born on April 1, 1961, in Blackburn, West Lothian, Scotland. She grew up in a working-class family and was the youngest of nine siblings. She faced challenges such as being bullied and coping with learning disabilities.

"Britain's Got Talent": Susan Boyle gained international fame after auditioning for the reality TV show "Britain's Got Talent" in 2009. Her rendition of "I Dreamed a Dream" from the musical Les Misérables wowed the judges and the audience, instantly making her a global sensation. The video of her performance went viral, and she became known as the "Hairy Angel" due to her unconventional appearance.

Talent and Success: Susan Boyle's powerful voice, combined with her humble and unassuming demeanor, won the hearts of millions of fans around the world. Following her appearance on "Britain's Got Talent," she released her debut album, "I Dreamed a Dream," which became the UK's best-selling debut album of all time. She has since released several successful albums, sold millions of copies, and has received numerous awards for her music.

Philanthropy and Advocacy: Susan Boyle has been involved in various charitable activities and advocacy work. She has supported organizations such as Save the Children, Comic Relief, and Autism Rocks, among others. She has also been open about her own struggles with mental health and has spoken out about the importance of mental health awareness and destigmatization.

Personal Challenges and Resilience: Susan Boyle has faced personal challenges throughout her life, including dealing with the pressures of fame, coping with the loss of her parents, and managing her own mental health. However, she has shown remarkable resilience and determination, continuing to pursue her music career and inspiring others with her story.

Legacy: Susan Boyle's rise to fame and her powerful voice have made her an inspiration to many, breaking stereotypes and challenging societal expectations. She has become a symbol of hope, resilience, and the power of pursuing one's dreams, regardless of age, appearance, or background.
Overall, Susan Boyle's story is one of talent, perseverance, and overcoming adversity, and she continues to be celebrated for her music, philanthropy, and advocacy work.
Never Judge A Book by Its Cover
The saying "never judge a book by its cover" or "don't judge a book by its cover" means that you shouldn't judge someone or something based only on what you see on the outside or only on what you perceive without knowing the full situation. It means that the outward appearance of something is not an indication of its value or worth.
It comes from the idea that you may see the cover of a book and decide it's not a good book or it's not worth reading without knowing anything else about it. It is used metaphorically when it is applied to other things such as a TV show, a person, a job, or a restaurant.
Here are some examples of how it is used:
Jim: Wow, you really want to go to a restaurant called 'Plain Burger'?
Joe: Hey, never judge a book by its cover! They may have delicious burgers!
Shawn: Look at those scrawny kids on the other team. This game should be easy for us to win.
John: Don't judge a book by its cover. They might be faster than us. We won't know until we play.
1 Simon Cowell talks Susan Boyle in new interview
Gepubliceerd op 30 nov. 2009
Britain's Got Talent judge Simon Cowell reflects on Susan Boyle's outstanding year from BGT conant to one of the most famous singers in the world.
2 Susan Boyle vs Collabro | Britain's Got Talent World Cup 2018
Gepubliceerd op 18 jun. 2018
Opera meets musical theatre in this epic BGT World Cup clash between Susan Boyle and Collabro.
 3 SUSAN BOYLE STORY – I DREAMED A DREAM
16 jan. 2011
Susan Boyle is live with an audience on ITV, as Piers Morgan charts her rise to fame… ( Screen Date: 13th / Dec / 09 )… This is Part 1 of 6
4 I Dreamed a Dream – The Susan Boyle Story (Susan Boyle the Movie)
1 jun. 2012
© FremantleMedia Ltd / Simco Ltd 2009 Saw on ITV
Gepubliceerd op 13 dec. 2009
Susan Boyle is live with an audience, as Piers Morgan charts her rise to fame… ( Screen Date: 13th / Dec / 09 )… This is Part 5 of 6
5 The Susan Boyle ~ Les Misérables Story… where it all began
Gepubliceerd op 24 dec. 2012
Back on April 2009, Susan Boyle stepped out (broadcasted) on Britain's Got Talent stage for her first audition, and electrified the world with her stunning version of "I Dreamed a Dream" from the successful stage musical "Les Misérables".
This is a compilation of videos dating back to 2009-2012 where Les Misérables composer Claude-Michel Schonberg, lyricist Alain Boublil, and Producer Sir Cameron Mackintosh were moved and compelled to exalt Susan for embracing "I Dreamed a Dream" as a personal quest to tell her story of deep, emotional and painful memories.
This video also ties the stage musical about Susan's life which has the same song title (IDAD), and was written and produced in the UK. This was created with great love and respect for what Susan endured during her difficult birth, bullying in her formative years, and her personal relationships with her family and friends in the small village of Blackburn, West Lothian, Scotland. This musical has a good mix of period music through the years, adding in touching/tearful moments and laughter. Also, duly noted in the musical was the blatant and gross abuse by the media press towards Susan and how she coped in the end and survived…
During the Spring and Fall of 2012, this successful stage musical had garnered many 4-5 star ratings in the UK, and has bookings set for Australia next spring 2013.
Hopefully, one day the "I Dreamed a Dream" stage musical will showcase in New York, Los Angeles, London, San Francisco, etc. because her story has moved many people in the world through her voice, and empathized with her adverse and triumphant story. No one deserves as much success as someone who's humble, kind, generous and self-determined as Susan… and, in her own way, for someone who has survived years of emotional and psychological abuse.
It must also be noted … many have made thousands/millions of $… and, careers launched and made off the toil and tears… and, of course life-changing joy of a humble and shy, middle-aged lady from Blackburn, Scotland. Her presence was and will be felt wide and deep for many years to come.
6 Susan Boyle – RTE Late Late Show – March 2012
Gepubliceerd op 10 mrt. 2012
Susan Boyle and Elaine C. Smith interviewed on the Late Late Show in Dubllin, Ireland, March 9, 2012,
7 Susan Boyle Receives Honorary Degree July 2012
Gepubliceerd op 24 dec. 2012
8 Susan Boyle Semi Final *EXTENDED EDITION* – Britain's Got Talent – (FULL HD QUALITY)
Gepubliceerd op 25 mei 2009
Click on HD for best quality.
Susan Boyle's Semi Final Performance on 24 May 2009.
9 Susan Boyle sings Wild Horses on America's Got Talent 2009
Gepubliceerd op 18 sep. 2009
Susan's New Album – "The Gift"
Susan's performance of 'Wild Horses' at the finale of NBCs hit summer series America's Got Talent! Go to
http://www.susanboylemusic.com
for the latest news and features on Susan's official website.
10 Susan Boyle – Unchained Melody (Live)
Gepubliceerd op 14 okt. 2011
To order the stunning new album Someone To Watch Over Me
12 SUSAN BOYLE interview on GOOD MORNING AMERICA, 16 Apr 2009
13 Susan Boyle – Today Show Interview 10/18/11
14 Susan Boyle BBC Breakfast 25 Dec 2012
 Gepubliceerd op 26 dec. 2012
Interview with Susan Boyle on BBC Breakfast, aired Christmas Day 2012 (pretaped at an earlier date).
15 World Over – 2014-10-16 – Famed singer Susan Boyle with Raymond Arroyo
16 Susan Boyle Earns Golden Buzzer With Iconic "Wild Horses" – America's Got Talent: The Champions
Gepubliceerd op 8 jan. 2019
Susan Boyle is BACK! Susan returns with "Wild Horses" by The Rolling Stones and earns the golden buzzer from Mel B.
17 The diagnosis that changed Susan Boyle's life | A Current Affair


Gepubliceerd op 5 jun. 2019
Susan Boyle was 48 years old when she took to the stage to perform a spine-tingling rendition of 'I Dreamed a Dream' on Britain's Got Talent. Ten years ago, after living her whole life in a small Scottish town, Boyle was thrust into the spotlight — and it quickly became too much for her.Get more A Current Affair at:
http://9Now.com.au/ACA
18 Susan Boyle_performs "When a Child is Born_at the Vatican Christmas concert_12/14/2019
19 Susan Boyle – Unchained Melody (Live)
14 okt. 2011
Music video by Susan Boyle performing Unchained Melody.
(C) 2011 Simco Limited under exclusive licence to Sony Music Entertainment UK Limited
20 The Stunning Transformation Of Susan Boyle
11 nov. 2020
After her star-making appearance on Britain's Got Talent, Susan Boyle secured a place in all of our hearts. But her path to fame wasn't an easy one. If you're curious about her early life and how she got to where she is today, keep watching to witness her stunning transformation.
Boyle was born in 1961 in Blackburn, Scotland to Patrick and Bridget Boyle, a miner and a typist, respectively. She was the youngest of nine siblings, and her mother was 47 when she gave birth to her.
Due to a difficult birth, Boyle experienced a lack of oxygen as an infant, resulting in a condition that at the time was thought to be mild brain damage. As a result, she grew up with some learning challenges and became the target of bullying in school. Despite her childhood hardships, she's characterized herself as a "cheeky little girl" who fought very hard to carve out a space of her own among her siblings.
With her mother's unwavering support, Boyle found her way to singing just before her teenage years. She discovered her iconic talent by participating in school productions and performing with her church choir.
But for much of Boyle's early life, singing was merely an activity that she did for pleasure, not a skill that could lead to a career.
Keep watching this video to see Susan Boyle's stunning transformation.
21 Hatching Boiled Easter Egg Prank
25 mei 2011
Woman demonstrates a new kitchen appliance that cooks eggs perfectly. But the supposedly boiled egg on display starts hatching a real live baby chick, right in front of some very surprised shoppers.
A presentation of JustForLaughsTV, the official Just For Laughs Gags YouTube channel. Home of the funniest, greatest, most amazing, most hilarious, win filled, comedy galore, hidden camera pranks in the world!