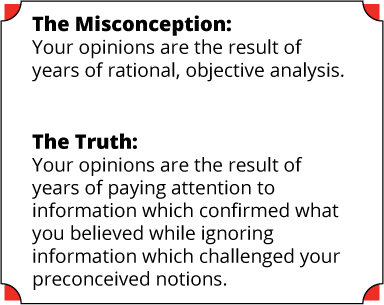 Bias
The action of supporting or opposing a particular person or thing in an unfair way, because of allowing personal opinions to influence your judgment:
The senator has accused the media of bias.
Reporters must be impartial and not show political bias.
There was clear evidence of a strong bias against her.
There has always been a slight bias in favour of/towards employing liberal arts graduates in the company.
Unconscious bias (= that the person with the bias is not aware of) can influence decisions in recruitment, promotion, and performance management.
Cambridge Dictionary
Human Factors in Wrongful Convictions: Implicit Bias
19 nov. 2018
Professor L. Song Richardson explains how personal experiences shape our views and can result in unintentional bias.
This an excellent point that applies to Police Bias and Prejudice Based on their Conscious and Unconscious Bias/Prejudices … Definitely applies to BOBs illegal perpetual extremely-intrusive surveillance activities invading personal privacy of Females, especially.
Unconscious Bias – does it impact your decisions?
1 Who killed young mum Corryn Rayney? Falsely accused husband breaks silence | 60 Minutes Australia
Gepubliceerd op 15 okt. 2018
Mother of two, Corryn Rayney was found killed and buried in a Perth park. Police declared her husband, Lloyd, as the only suspect and became consumed with proving his guilt. Now after proving his innocence and winning a record defamation case against WA police, Lloyd is fighting to finally find: who really killed Corryn Rayney?
For forty years, 60 Minutes have been telling Australians the world's greatest stories. Tales that changed history, our nation and our lives. Reporters Liz Hayes, Allison Langdon, Tara Brown, Charles Wooley, Liam Bartlett and Tom Steinfort look past the headlines because there is always a bigger picture. Sundays are for 60 Minutes.
2  Wrongfully accused rapist exonerated after 5 years in jail
3 Wrongfully Jailed For Rape As A Teen, He Now Helps Others Falsely Convicted | Megyn Kelly TODAY
Gepubliceerd op 9 jan. 2018
Accused of rape by a fellow student, Brian Banks accepted a plea deal and went to prison on his 18th birthday. Years later he was exonerated with the help of the California Innocence Project. He's joined on Megyn Kelly TODAY by Project director Justin Brooks and former prosecutor Loni Coombs, with whom he now examines other potentially wrongful convictions on the series "Final Appeal."
4 Blindsided: The exoneration of Brian Banks
Gepubliceerd op 24 mrt. 2013
Has Brian Banks' dream of an NFL career been delayed or even destroyed by a false charge of rape and 5 years in prison? James Brown reports. Get more at
http://www.cbsnews.com/
11 Bernard Baran, Wrongly Imprisoned for 22 Years


Gepubliceerd op 11 jun. 2018
Anthony Ray Hinton spent nearly 30 years on death row before he was exonerated in 2015. Now, Hinton has written a book about his experience called "The Sun Does Shine: How I Found Life and Freedom on Death Row." 60 Minutes told his story in 2016.
6 Clayton Johnson wrongful murder conviction : Tide of Suspicion (1998) – The Fifth Estate 
Gepubliceerd op 5 okt. 2017
Four years prior to this report, The Fifth Estate had broadcast a piece that reaffirmed the guilt of then convicted murdered Clayton Johnson. In Tide of Suspicion, we presented new evidence that cast serious doubts on the investigation that led to Johnson being charged related to the death of his wife Janice, and persuaded The Fifth Estate that the original story was wrong. With the new evidence the Association in Defence of the Wrongly Convicted took up Johnson's case and submitted an application for ministerial review of his conviction. In 1998 his case was ordered reopened, and he was released from prison after five years. In 2002 the Nova Scotia Court of Appeal quashed his conviction and ordered a new trial. The Crown decided to not proceed with a new trial, and Johnson was exonerated.
— 
About the fifth estate : For four decades The Fifth Estate has been Canada's premier investigative documentary program. Hosts Bob McKeown, Gillian Findlay and Mark Kelley continue a tradition of provocative and fearless journalism. the fifth estate brings in-depth investigations that matter to Canadians – delivering a dazzling parade of political leaders, controversial characters and ordinary people whose lives were touched by triumph or tragedy.
7 Howard Dudley Embraces His Freedom: Wrongfully Convicted Man Freed After 23 Years in Prison
Gepubliceerd op 22 apr. 2016
Duke Law's Wrongful Convictions Clinic and the Innocence Project celebrated the hard-earned freedom of clinic client Howard Dudley. He was freed in early March 2016 after a judge ruled that he had no confidence in Dudley's 1992 trial. Dudley served 23 years in prison after his conviction for allegedly sexually assaulting his 9-year-old daughter. Additionally, the judge found that Dudley's daughter's recantation of the allegation was credible, and in fact no abuse occurred. Professors from the Wrongful Convictions Clinic, as well as clinic students, walked through what led to Howard's conviction and how he eventually achieved his freedom. There was also a discussion of the reintegration process, and what the road ahead for Howard holds.
8 The Wrongful Conviction of David Camm
9 Wrongfully Convicted of Murder and the Path to Acquittal
The Illinois Innocence Project hosts David Camm, a former Indiana State Trooper who was wrongfully convicted of murdering his wife and children. We hear . The most anticipated witness in David Camm's third murder trial took the stand Monday. On the evening of Sept. 28, 2000, former Indiana state trooper David Camm came home to find his 35-year-old wife Kim and his five-year-old daughter Jill . Dateline Mystery: Murder on Lockhart Road Part 2 On the evening of Sept. 28, 2000, former Indiana state trooper David Camm came home to find his .
The Illinois Innocence Project hosts David Camm, a former Indiana State Trooper who was wrongfully convicted of murdering his wife and children. We hear from Mr. Camm, as well as Gary Dunn, a former FBI agent turned private investigator hired by Camm's legal team. Mr. Dunn recounts the negligence and overzealousness of the authorities involved in prosecuting Mr. Camm.
10 After 28 Years in Prison, Man Falsely Convicted in Botched Investigation to Walk Free
Democracy Now!
Gepubliceerd op 18 dec. 2015
Democracynow.org – A Denver, Colorado, man has spent 28 years in prison based on a dream—and it wasn't his. Now he could soon be free. In 1989, Clarence Moses-EL, who is African-American, was sentenced to 48 years in prison after a woman said she dreamed he was the man who raped and beat her in the dark. The victim said she was raped in her apartment after a night out drinking at a party. She was beaten so badly during the attack that she suffered broken facial bones and lost the use of one eye. Initially, the victim named three men she had been drinking with as her possible attackers—none of them was Clarence Moses-EL. But police never investigated any of those men, because, a day and a half later, the victim said she had a dream that Moses-EL was the one who raped her. Moses-EL has always maintained his innocence. But the police threw out a rape kit and any possible evidence, like bed sheets and her clothes. This summer, another man confessed to the attack, yet Moses-EL remained in prison. Now a judge has lifted his conviction, but Moses-EL still remains in jail. He could be freed as early as Tuesday, when a bond hearing has been set. The District Attorney's Office has not yet said if they will attempt to retry him for the crime. We speak with Colorado Independent editor Susan Greene, who has long covered the story, and with Moses-EL's attorney, Gail Johnson.
Democracy Now!, is an independent global news hour that airs weekdays on 1,300+ TV and radio stations Monday through Friday. Watch our livestream 8-9am ET: http://democracynow.org
11 No DNA to Test: The Wrongful Conviction of Dwayne Provience
Gepubliceerd op 17 nov. 2009
Yall are real life, life savers. The work yall do is what paid lawyers should do.
The State of Michigan needs to feel the pinch in these cases…100 million dollars each to the wrongfully convicted, I say. It is the only way they will take this problem seriously. Wayyyy too many people who are innocent still in prison and society doesn't care. Why are we not outraged?! We lead the world in INCARCERATION and there seems to be NO END to this constant news of exonerations. Unbelievable…even the idiot juries need to be better-educated and not automatically believe everything a prosecutor says at trial. The State can try to recoup the money, paid to the wrongfully convicted, from the counties who vote in the malicious prosecutors and horrendously under-fund the public defender system in this broken system of so-called "justice". But don't let the State off the hook. They are responsible themselves for administering a fair and equal justice system and must uphold their State constitution.  Maybe we need to open up the prison gates and start all over. No plea-bargaining by public defenders, and a higher standard of proof for the jury to convict.
The police intimidated witnesses into saying untrue things they would not have said if they had not been intimidated and coerced. This is similar to my case and many other cases throughout this country.
Gepubliceerd op 26 nov. 2006
Georgia Supreme Court Hearing, Nov 7, 2006, Case of J. Andrew Rice and Kathryn W. Rice v. Judge Adele Grubbs
Corruption wears a black cape. Too bad they don't have red, white or blue capes for the good and honest judges eh?
The Rice's present much evidence.  The attorney representing the Judge, only denies the Rice's evidence without any evidence to back it up.  The Supreme court is only supposed to take her word on it?
13 Wrongful Conviction Special Part 1 of 6
12 okt. 2010
New York has a disproportionate number of exposed wrongful convictions; more than 10 percent nationwide. Why are so many people getting wrongfully convicted and what's being done about it? Legal Analyst Stone Grissom examines the issue of exonerations through the eyes of those who lived through it. Decades lost; families destroyed and a historic meeting as three exonerees meet for the very first time.
14 Fake Amputee Asks for Money Prank
8 mei 2016
Relax everyone, obviously we gave them their money back… Or did you really think we used up the total of 25 dollars as a Christmas bonus?
Welcome to the world-famous Just for Laughs Gags channel, where we pull public pranks on unsuspecting Montreal residents and tourists.