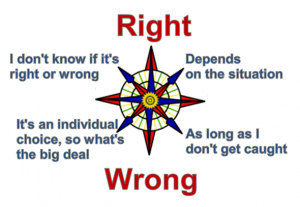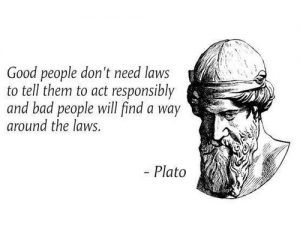 English
Justice is a pillar of society and consequently has unbridled power.
When a lack of precaution, which the BBC calls

'A perversion of justice'

in the aforementioned videos about Liam Allan – the word

abject

– is used, then you arrive at consequences the impact of which is incalculable
We have a constitutional state, a civilised, highly developed country, but in an individual case you come to the conclusion that the life of a person and his environment is being shattered by the justice system.
The moral compass, in the context of this website, means that standard-bearers and those with social status see reality as it really is, unambiguously, in line with the values of the rule of law, justice, ethics and conscience.
Example
The pfd below, an article from De Standaard of Friday 24 January 2020 page 10:
"Several researchers, including a Nobel Prize winner, have revealed on Twitter and elsewhere

that their papers contain erroneous data".


You'd better be open about the errors in your research'.
'Je kunt maar beter open zijn over de fouten in je onderzoek'
The article is clear and straightforward. The how and why of what happened is explained. All the elements are explained.
The Nobel Prize winner in chemistry says in the caption of the photo in the article: 'I didn't do my job properly'.
On the website of Royal Society of Chemistry there are words of praise:
… 'it has been universally, and rightly, praised as a model of integrity and responsibility'.
The explanation under the heading: 'Crisis communication?' in the article is to-the-point:
'The study in question, published in May 2019 in the top trade journal Science, was not replicable – and therefore worthless.'
No one can understand how a sworn person in administration and justice and related entities in society, stupidly does the opposite of what they are supposed to do. The consequences and impact on a human being by someone who has you in his power is something for which there are no words.
The case of Liam Allan, which has already been explained, and the hyperlink to the video about what happened to Ricky Jakson are exemplary.
Two examples of what cannot happen unless society and the judiciary go terribly wrong.
The other side of justice: you get into a legal bubble as a result of systemic errors and there it goes wrong again.
You cannot be the scapegoat for something that is not there, or be labelled the bad guy, when those characteristics cannot be found.
Dutch
In general, a "moral compass" refers to an individual's internal guidance system that helps them differentiate between right and wrong, make ethical decisions, and determine their actions and behaviors. Here are some key points that may be relevant to the concept of a moral compass:
Personal values: A moral compass is shaped by an individual's personal values, which are their fundamental beliefs about what is important, right, and just. These values may be influenced by various factors, such as cultural, religious, familial, or individual beliefs.

Ethical principles: A moral compass may be guided by ethical principles, such as honesty, integrity, fairness, respect, and compassion. These principles serve as guidelines for making moral judgments and decisions.

Conscience: A moral compass may involve an individual's conscience, which is their inner voice that alerts them to the moral implications of their actions and behaviors. Conscience can evoke feelings of guilt, shame, or pride based on how well an action aligns with an individual's moral values.

Contextual considerations: A moral compass takes into account the specific context of a situation, including the consequences of actions, the rights and well-being of others, and the broader societal impact of decisions. It recognizes that moral dilemmas can be complex and that the right course of action may depend on the situation.

Self-reflection and introspection: Developing a moral compass requires self-reflection and introspection, as individuals need to critically evaluate their beliefs, values, and actions. This involves being open to feedback, considering diverse perspectives, and continuously learning and growing in moral reasoning.

Action-oriented: A moral compass is not just about abstract moral reasoning but also about taking action based on one's ethical principles. It involves behaving in a manner that aligns with one's moral values and principles, even in challenging situations.

Fallibility: A moral compass acknowledges that individuals are fallible and may make mistakes in moral judgment and actions. It requires humility and the willingness to learn from errors and make amends when necessary.
It's important to note that different individuals may have different moral compasses based on their unique experiences, beliefs, and perspectives. The concept of a moral compass is subjective and can vary across cultures, religions, and philosophical systems.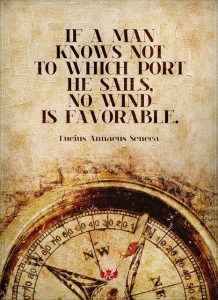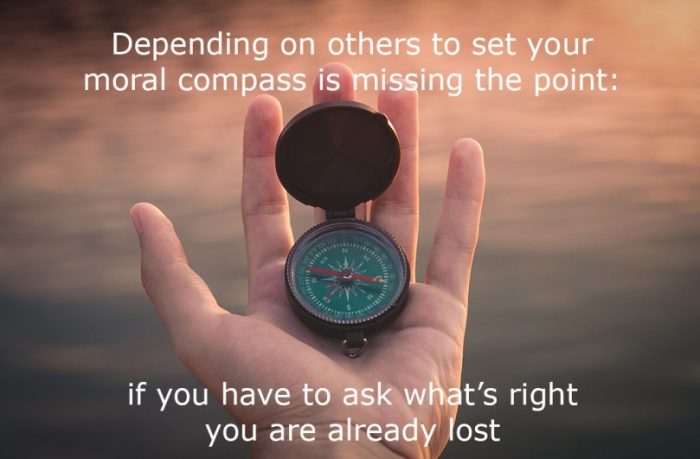 Anonymous – The Story of Aaron Swartz Full Documentary
7 sep. 2014
This film follows the story of programming prodigy and information activist Aaron Swartz. From Swartz's help in the development of the basic internet protocol RSS to his co-founding of Reddit, his fingerprints are all over the internet. But it was Swartz's groundbreaking work in social justice and political organizing combined with his aggressive approach to information access that ensnared him in a two-year legal nightmare. It was a battle that ended with the taking of his own life at the age of 26. Aaron's story touched a nerve with people far beyond the online communities in which he was a celebrity. This film is a personal story about what we lose when we are tone deaf about technology and its relationship to our civil liberties.