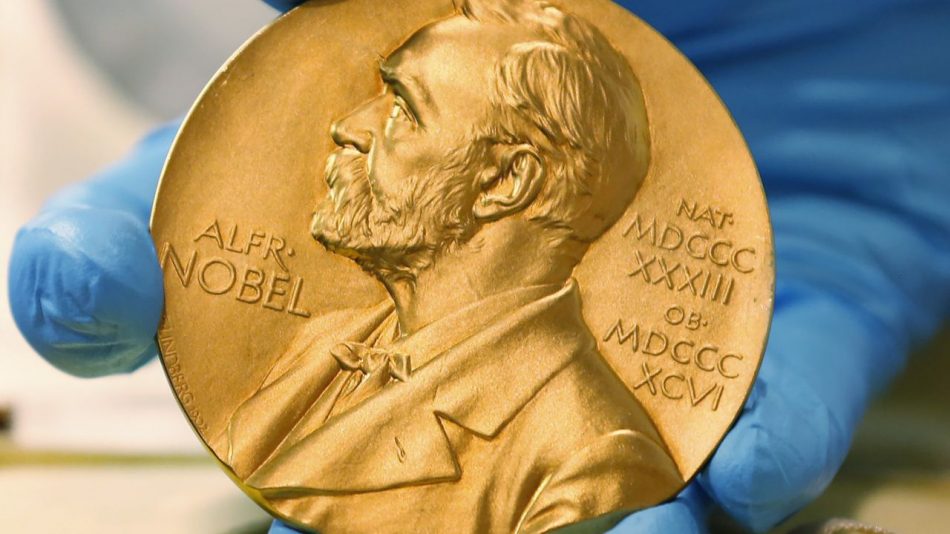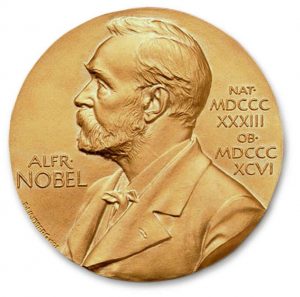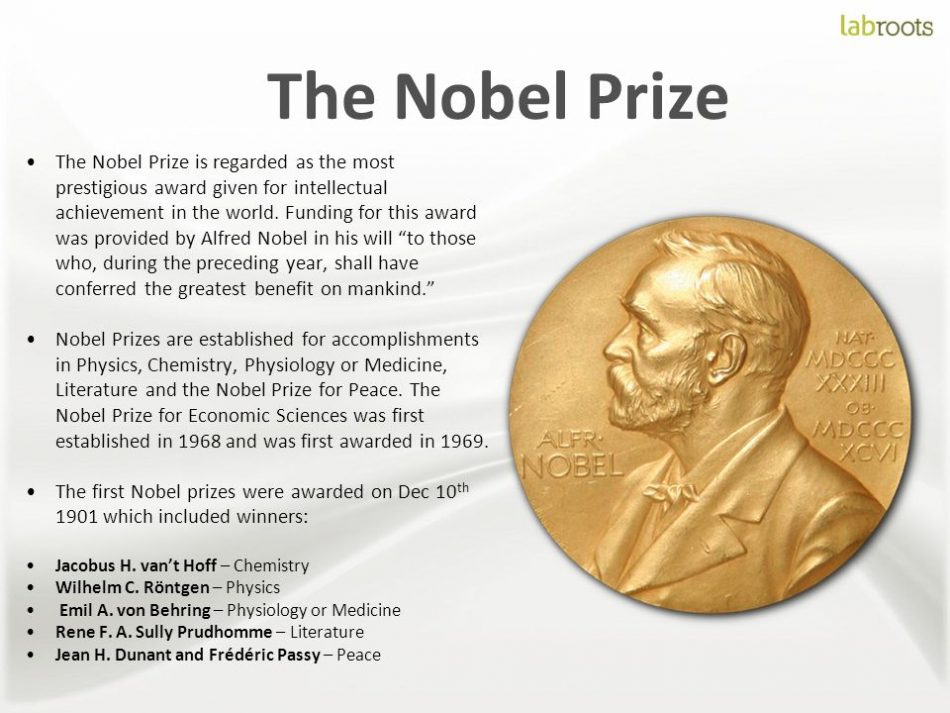 The Nobel Peace Prize is an annual international award given to individuals and organizations who have made significant contributions to promoting peace, reconciliation, and disarmament around the world. Here are some of the key points about the Nobel Peace Prize:
It was established by Alfred Nobel, a Swedish inventor and businessman, in his will in 1895.

The Nobel Peace Prize is one of six Nobel Prizes, which also include prizes for Physics, Chemistry, Medicine, Literature, and Economics.

The prize consists of a medal, a diploma, and a cash award.

The award is presented annually in Oslo, Norway, on December 10th, the anniversary of Nobel's death.

The Norwegian Nobel Committee is responsible for selecting the recipient(s) of the Nobel Peace Prize.

The committee is composed of five members appointed by the Norwegian Parliament, and they are independent of the government.

The prize has been awarded to individuals and organizations from various fields, including politicians, activists, humanitarians, and organizations focused on disarmament, peace-building, and conflict resolution.

Some of the most well-known recipients of the Nobel Peace Prize include Mother Teresa, Nelson Mandela, Martin Luther King Jr., and the International Committee of the Red Cross.

The Nobel Peace Prize has also been criticized for being awarded to controversial figures and for its selection process.

Despite its limitations and criticisms, the Nobel Peace Prize remains one of the most prestigious awards in the world, and its recipients continue to inspire and promote peace worldwide.
1 Al Gore's Nobel Acceptance Speech
17 mei 2012
Al Gore accepts the Nobel Peace Prize in Oslo, Norway. (re-post with better quality)
2 2009 Nobel Peace Prize Lecture by Barack Obama
17 dec. 2009
Copyright © Nobel Media AB 2009 Credits: Norsk Rikskringkasting AS (production) Watch Barack H. Obama deliver his Nobel Peace Prize Lecture during the Nobel Peace Prize Award Ceremony at the Oslo City Hall in Norway, 10 December 2009.
3 ENGLISH SPEECH | MALALA YOUSAFZAI – Nobel Peace Prize (English Subtitles)

Back to menu
26 mei 2018
Learn English with Malala in her speech at Nobel Peace Prize in Oslo 2014. Malala Yousafzai, 17, is the first Pakistani, and youngest ever recipient of the Nobel Peace Prize – Watch with big English subtitles.
4 Martin Luther King Jr. Nobel Peace Prize Acceptance Speech


Back to menu
15 jan. 2014
Read the acceptance speech at nobelprize.org:
Martin Luther King Jr. held his acceptance speech in the auditorium of the University of Oslo on 10 December 1964.
Copyright © Norsk Rikskringkasting AS 2012
IMPORTANT CONTENT
5 HARDtalk:Malala Yousafzai and Kailash Satyarthi joint winners of the Nobel Peace Prize 2014
HARDtalk speaks to the joint winners of the 2014 Nobel Peace prize, Malala Yousafzai.and Kailash Satyarthi.The judges awarded them the prize in recognition of their 'struggle against the suppression of children and young people and for the right of all children to education'.
6 "Kailash Satyarthi – Glimpses of his journey as a Humanitarian and Committed Child Rights Activist"
7 Watch Kailash Satyarthi's Nobel Peace Prize acceptance speech
10 dec. 2014
Children's rights advocate Kailash Satyarthi said every child deserves to dream in his Nobel Peace Prize acceptance speech on Dec. 10, 2014. Watch an excerpt. Read more:
http://www.pbs.org/newshour/rundown/m…
27 nov. 2018
Follow the thrilling story of Nobel Peace Laureate Kailash Satyarthi's journey to liberate every child from slavery. THE PRICE OF FREE follows Satyarthi and his team of activists around the world on secret raid and rescue missions as they hunt for missing children and work to reunite them with their families. Winner of the Grand Jury Prize, US Documentary, Sundance 2018.
9 Kailash Satyarthi: The Nobel Peace Prize Winner The Mafia Wants Dead | Goalcast
23 mrt. 2021
✪ Nobel Peace Prize Winner Kailash Satyarthi has dedicated his life to ending child trafficking in India. Despite getting attacked and beaten on many occasions, Kailash remains relentless in his mission. He's freed over 87,000 children from horrific slave-like conditions, but he couldn't save the one person who mattered most… Why will Kailash forever carry the burden of that fateful day? And why does he continue to risk his life to end child labour?
🌟 ABOUT US! 🌟 Welcome to the official Goalcast YouTube channel! We want to inspire the world to reach their dreams. On this channel, you'll find a variety of content including inspirational videos, motivational speeches, short documentaries and more. Make sure to subscribe and enable ALL notifications!
10 Need to end Child Slavery⎮ Emotional moment in Switzerland


25 jan. 2019

Tears rolled as Nobel Peace Prize winner Kailash Satyarthi shared his story and inspired young Swiss students at the WEF Open Forum at Davos 2019.
BLOG on SLXLEARNING : Unforgettable – A Davos moment with Kailash Satyarthi
– by Satyadeep Rajan
'Davos moments' as the regulars call them, are when somethings unexpected and big happen to you – meeting a personal hero, or saving a head of state from slipping on the ice. As Davos week winds down, the ritual is to exchange one's Davos moments with others over drinks. Just as I thought this year would go by without a Davos moment, the moment came. And it was, literally, the best ever!
As this was not my first Davos experience, I had grown accustomed to the usual noise on the global economy and the need for greater partnerships and the PR announcements to kick off ambitious projects aimed at 'improving the state of the world'. The usual media frenzy regularly came up with headlines like « Global elite descend on Davos », "Global economy at risk due to climate change" and so on like it was really "news". Very few of the news media usually show up at the World Economic Forum Open Forum, which is open to public at the local school auditorium. Most don't know it even exists! Emotionally intense moments that move you to tears are not what I had come to expect at Davos.
My team and I from Swiss Learning Exchange had decided to attend the WEF's Open Forum session – The Price of Free. The session details said: Join Nobel Peace Prize Laureate Kailash Satyarthi in a special screening of the documentary, The Price of Free, portraying his fight against child slavery in his home country of India and now around the world.
I started Swiss Learning Exchange to do our part in helping people cope with the fast-changing world around us. I could potentially have watched it later and instead headed out to network at the many private events and parties all around Davos. After the first couple of minutes, I was completely spellbound, as was the rest of the audience, riveted to Satyarthi's amazing story.
After the screening, as Kailash Satyarthi walked on to the stage, what followed was nothing short of extraordinary. Hands were raised, slogans were shouted and tears were rolling in a packed audience of Swiss people – old and young – as the Indian Nobel Peace Laureate's story touched not only their minds but the hearts of everyone in the local alpine school auditorium. Regardless of which language the session was followed in, in English, French or German, everybody was inspired by his example and his call to action.
A Swiss teenager from the audience, Jakub, said "I would like to thank you for sharing the love, the power, the ambition." Jakub got emotional and his voice quivered just a bit as he continued, "So great, what you did, where did you get this power and this ambition from, how did you survive all these bad things you have seen?", to which Satyarthi responded:
"I draw the power from you. I am not a politician, am not religious leader, am not a monk, am as ordinary as any of you are. I count on the power of you. Be my friend, not my follower!"
But the real 'Davos moment' came as Satyarthi was leaving the room, and it was nothing short of a spiritual experience in the mountains. Another Swiss teenager, Jonas did what we all wanted to do – give Kailash Satyarthi a big heartfelt hug and thank him for his amazing work. As he hugged him, Jonas was overcome with emotion, an intense moment that we were lucky enough to capture on our cameras and phones.
Jonas allowed his pent up emotions to overflow in a spontaneous expression of love and compassion for Satyarthi's cause. Jonas, I do not know who are you and how to reach you but if you watch this and if you are reading this, know that I shared your emotions as you hugged Kailash Satyarthi.
Watch the video. I would so love to meet you and talk to you.
Requests for sharing this video, please contact us by email: info@slxlearning.com
If you would like us to create a video like this one for you, please contact us by email : studios@slxleaning.com
SLX Davos Diary :
SLX Swiss Learning Exchange is an ed-tech startup in Switzerland that creates blended-learning programs on its platform and shares the spirit of inclusivity that engages youth and peer-learning which the Open Forum wants to achieve.
11 Interview with Nobel Prize winner Kailash Satyarthi
2 okt. 2015
Nobel Peace Prize winner Kailash Satyarthi has dedicated his entire life to ending child labor and child trafficking. 35 years ago, he set up the Bachpan Bachao Andolan (Save Childhood Movement) and has rescued over 85,000 children globally. CCTV's Shraysi Tandon sat down with Satyarthi to discuss the issue of child labor and child trafficking.
12 Malala Yousafzai, Kailash Satyarthi Win Nobel Prize
10 dec. 2014
Malala Yousafzai, the 17-year-old education campaigner, and Indian children's-rights activist Kailash Satyarthi were awarded the 2014 Nobel Peace Prize at a ceremony in Oslo Wednesday. Photo: Getty
13 Frankly Speaking with Kailash Satyarthi – Full Interview
10 nov. 2014
Kailash Satyarthi will be formally handed the Nobel Peace Prize on the 10th of December 2014. In his first interview a month before his visit to Oslo, Kailash Satyarthi has lashed out at politicians who have ignored the plight of children in the world's largest democracy. In this episode of Frankly Speaking with TIMES NOW's Editor-in-Chief Arnab Goswami, he speaks about his battle for child rights and the time when even a former Prime Minister threatened him indirectly. Social Media Links :-
.
14 Kailash Satyarthi: How to make peace? Get angry
13 apr. 2015
How did a young man born into a high caste in India come to free 83,000 children from slavery? Nobel Peace Prize Laureate Kailash Satyarthi offers a surprising piece of advice to anyone who wants to change the world for the better: Get angry at injustice. In this powerful talk, he shows how a lifetime of peace-making sprang from a lifetime of outrage.

TEDTalks is a daily video podcast of the best talks and performances from the TED Conference, where the world's leading thinkers and doers give the talk of their lives in 18 minutes (or less). Look for talks on Technology, Entertainment and Design — plus science, business, global issues, the arts and much more. Find closed captions and translated subtitles in many languages at
15 Kailash Satyarthi talks with rescued Children
16 Teens React to Child Slavery & Exploitation
29 nov. 2018
We asked high school students to watch the documentary The Price of Free, which addresses the horrors of child slavery and highlights the work of Kailash Satyarthi to end child slavery. Here's what they had to say about it… Watch documentary film The Price of Free to learn about Kailash's inspiring work to end child labor and exploitation worldwide. If you'd like to help support Kailash's mission, click the blue donate button to give to his foundation
17 Kailash Satyarthi during the Raid & Rescue Operation
18 FULL Amanpour Malala Interview
19 Girl Shot in Head by Taliban, Speaks at UN: Malala Yousafzai United Nations Speech 2013
20 My Daughter, Malala | Ziauddin Yousafzai | TED Talks
24 mrt. 2014
Pakistani educator Ziauddin Yousafzai reminds the world of a simple truth that many don't want to hear: Women and men deserve equal opportunities for education, autonomy, an independent identity. He tells stories from his own life and the life of his daughter, Malala, who was shot by the Taliban in 2012 simply for daring to go to school. "Why is my daughter so strong?" Yousafzai asks. "Because I didn't clip her wings." 
TEDTalks is a daily video podcast of the best talks and performances from the TED Conference, where the world's leading thinkers and doers give the talk of their lives in 18 minutes (or less). Look for talks on Technology, Entertainment and Design — plus science, business, global issues, the arts and much more. 
21 Malala Yousafzai | Education for All | Oxford Union
Malala and Ziauddin Yousafzai talk to the Oxford Union.

**QUESTIONS BELOW**
1:46​ – 1) How does living in the UK compare to living in the Swat?
3:10​ – 2) [To Ziaudddin] What role do your family values play in developing a child like Malala?
7:09​ – 3) How Important is your fammily as a source of inspiration?
8:23​ – 4) What role has your mother played in your life?
9:45​ – 5) What would you say is different between Pakistan and the way the western media portrays the middle east?
13:06​ – 6) Where did you learn all this compassion?
16:35​ – 7) Whats next for you?
19:48​ – 8) How do you cope with the pressure of what people expect from you?
20:33​ – 9) How can everyone get involved with all the things you have planned?
23:30​ – 10) What message do you have for students of top universities of how they can help spread education to more poorer parts of the world?
Filmed on Saturday 7th December 2013
ABOUT MALALA YOUSAFZAI:
Malala Yousafzai (born 12th July 1997) is a Pakistani school pupil and education activist from the town of Mingora in the Swat District of Pakistan's northwestern Khyber Pakhtunkhwa province. She is known for her activism for rights to education and for women, especially in the Swat Valley, where the Taliban had at times banned girls from attending school. In early 2009, at the age of 11–12, Yousafzai wrote a blog under a pseudonym for the BBC detailing her life under Taliban rule, their attempts to take control of the valley, and her views on promoting education for girls. The following summer, a New York Times documentary was filmed about her life as the Pakistani military intervened in the region, culminating in the Second Battle of Swat. Yousafzai rose in prominence, giving interviews in print and on television, and she was nominated for the International Children's Peace Prize by South African activist Desmond Tutu.
ABOUT THE OXFORD UNION SOCIETY:
The Union is the world's most prestigious debating society, with an unparalleled reputation for bringing international guests and speakers to Oxford. It has been established for 190 years, aiming to promote debate and discussion not just in Oxford University, but across the globe.
Rights managed by Oxford Media Associates http://www.oxfordmediaassociates.com/​
Filmed by Oxford Media Solutions http://www.oxfordmediasolutions.co.uk
22 Albert Camus – Discours de réception du prix Nobel, 1957


23 okt. 2012
EN: Albert Camus' Nobel Prize in Literature acceptance speech, given at Stockholm on December 10, 1957. He was awarded the prize "for his important literary production, which with clear-sighted earnestness illuminates the problems of the human conscience in our times". 
FR : Discours d'Albert Camus pour la réception du prix Nobel de littérature, donné à Stockholm le 10 décembre 1957. Le prix lui a été décerné pour « l'ensemble d'une œuvre qui met en lumière les problèmes se posant de nos jours à la conscience des hommes ». 
23 Archbishop Desmond Tutu (1931-2021) on Apartheid, War, Palestine, Guantánamo, Climate Crisis & More
27 dec. 2021
Archbishop Desmond Tutu, the South African anti-apartheid icon, has died at the age of 90. In 1984 Desmond Tutu won the Nobel Peace Prize for his work fighting to end white minority rule in South Africa. After the fall of apartheid, Archbishop Tutu chaired the South African Truth and Reconciliation Commission, where he pushed for restorative justice. He was a leading voice for human rights and peace around the world. He opposed the Iraq War and condemned the Israeli occupation in Palestine, comparing it to apartheid South Africa. We reair two interviews Archbishop Tutu did on Democracy Now!, as well as two speeches on the Iraq War and the climate crisis.
The 2022 laureates in the fields of physics, chemistry, medicine and economic sciences talk to Zeinab Badawi and students in the audience at the Royal Palace in Stockholm about their discoveries and achievements, and how these might find a practical application.
25 How an "Ordinary" Man Won the Nobel Prize in Physics
26 jan 2023
Richard Feynman's mind worked in fascinating ways. Visit https://brilliant.org/Newsthink/ to start learning STEM for FREE, and the first 200 people will get 20% off their annual Premium subscription.
*Correction: Neutrinos do not "carry" the weak force but rather, interact with it.
19 mrt. 2012
This man really wants to put his dirty paws on more than one cupcake and he is ready to take extreme measures to do so. This is proof yet again that people wearing turtle necks are not to be trusted! This is also proof yet again that sexy blond girls are perfect to make diversions with men and women alike.
A presentation of the Just For Laughs Gags. The funny hidden camera pranks show for the whole family. Juste pour rire les gags, l'émission de caméra cachée la plus comique de la télé!