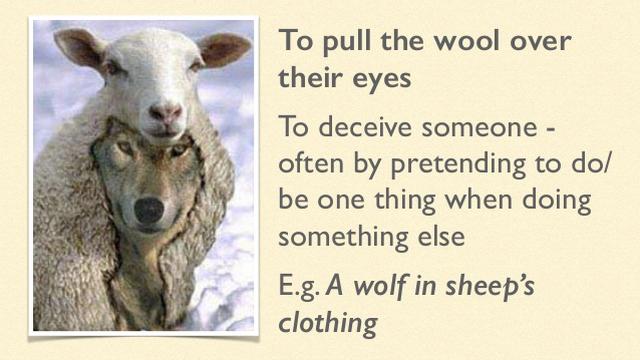 Informal
To trick or deceive someone : to hide the truth from someone
He was too clever to let them pull the wool over his eyes.
Merrian Webster
Een rad voor de ogen draaien
Zand in de ogen strooien
Om de tuin leiden
16 mei 2011
Professor Barry Scheck speaks on the impact the Innocence Project has made on the criminal justice system.
4 okt. 2017
Co-Founder Barry Scheck speaks about The Innocence Project with Kevin Richardson, one of the men wrongly convicted in the Central Park Five case.
The Innocence Project, which is currently celebrating its 25th anniversary, was founded by acclaimed lawyers Barry Scheck and Peter Neufeld who realized that the emerging DNA evidence that was being used to identify the perpetrators of crimes could also be used to exonerate those who had been wrongly convicted. The organization began as a legal clinic at Cardozo Law School and became an independent nonprofit (still affiliated with Cardozo) in 2004. Since its founding, 351 people have been exonerated by DNA evidence of crimes for which they didn't commit. The Innocence Project has helped in more than half of these cases.
The Innocence Project understood early on that each wrongful conviction was a learning opportunity, exposing flaws in the system that contributed to these terrible injustices. It advocates for science- and research-based reforms to prevent wrongful convictions. The organization has worked to pass more than a hundred state laws designed to reveal and protect against wrongful convictions, including laws that protect against eye witness misidentifications and false confessions, leading contributors to wrongful convictions.
Co-Founder Barry Scheck will talk about his groundbreaking work to disrupt the status quo of the criminal justice system and introduce you to a person helped by the Innocence Project who will share his story of perseverance on the long road to justice.
15 apr. 2014
Across the world children are denied their human rights, including for example, their right to education. They are recruited into armed forces, subjected to the death penalyt, are forced to work and suffer many other human rights abuses.
In this film we see how the young Afghan girl Parwana has to work at a brick factory to support her family. In many countries child labor is still a serious problem that violates children's rights.
The film was made by a local filmmaker, Emal Haidary, for Amnesty International.
14 jun. 2012
For Events, Exhibitions, Films: contactus@qedcommunications.com
26 mei 2022
Mica: it's the common ingredient in cosmetic products such as nail polish, foundation, mascara and lipstick. It's also often mined with child labour. It's what gives them their luminosity, making them responsible for the fortune of major cosmetic groups like L'Oréal, Lancôme, Dior and Chanel.
Unknown to its hundreds of millions of consumers is that most of it is filled with "dirty mica", extracted using antiquated methods, close to slavery, in one of the poorest regions of the world: Jarkhand, India. Here, under the constant threat of landslides and toxic dust, children dig through the earth with their bare hands.
Journalist Brando Barenzelli has traced the mica supply chains from the lost mines of the Indian countryside to the laboratories of major brands in Europe. He films the 8-year-old children who collect mica, and the mine owners and exporters who turn a blind eye to the deplorable working conditions. He also uncovers the strategies used at each stage of the supply chain to whitewash the origins of mica. Back in Paris and Europe, he confronts cosmetics manufacturers with the findings of his investigation.
Behind the Glitter: Mica and Child Mining in India | 101 East
12 jun. 2020
From nail polish to lipstick, mica is found in cosmetics that millions of people use every day.
But unknown to consumers, the mineral that gives these products their shine is often extracted using antiquated methods in slave-like conditions, in one of the poorest regions of the world.
In the dusty hills of Jharkhand, India, deep crevices have been cleaved into the hard earth. Men, women and children rummage through the dirt, using their bare hands and a few rudimentary tools to scrape the ground.
They work under the constant threat of landslides and toxic dust, risking their lives in the hope they will find and sell enough mica to survive.
"I would rather work in the mines than die of starvation," says a woman as she digs through the earth.
At another mine, Anil, 25, is searching through the rubble with his wife and their two young children. They live in a village at the foot of the mines, where there is no running water or electricity. Anil used to be a farmer, but a severe drought has left most of the land barren.
"Mica is the only option for us," he says. "We have all come here to work … so we can buy rice and feed ourselves."
From the impoverished miners to the mine owners and exporters who turn a blind eye to shocking conditions, 101 East traces the mica supply chain from the Indian countryside to the laboratories of major cosmetic brands in Europe.
Behind the Glitter: Mica and Child Mining in India | 101 East – Blog
18 jun. 2013
In the mountains of northeast India, children as young as 9 years old mine for coal.
27 mrt. 2011
Grocery bagger with headphones puts people's groceries in the wrong car and the car drives off.
A presentation of the Just For Laughs Gags. The funny hidden camera pranks show for the whole family. Juste pour rire les gags, l'émission de caméra caché la plus comique de la télé!