English
1 A coarsening or hardening of justice
The judiciary can write down a verdict or decision

without any knowledge of the matter

. A quickly written verdict, or as it used to be called, bad verdicts.

The website shows a different face of justice.

Justice can effortlessly operate in the wrong way.

It is indeed a sobering conclusion.

It is a harsh reality.

One can see from the example of Liam Allan that justice is nothing more than a paper construct. Prosecutor Jerry Hayes: "It's just sheer incompetence."
It can indeed happen to anyone like a bolt from the blue.
A kind of justice that is not cautious.

It imprisons people for years on the basis of nothing, even fabricated.

As one can see in the list in point 2 and on the next page (and in the 30 pages under menu 'Baffling' and throughout the website).

The examples on this and the following web page speak for themselves.

Justice is sometimes like the tip of an iceberg.
Dutch
English
Ten examples on the home page are extreme.
People who have done nothing wrong are crushed by the justice system.
What cannot happen becomes reality.
The dark side of justice.
Choosing the wrong course and gradually fooling yourself in order to end up with a fatal crash.
The website shows
how justice is used to destroy people's lives.
Youngsters of 14 and 15 years of age e.g.:
Dutch
The individual this officier that walked up to me one day six months in my prison he says who are you, his name was Jerome Jones, and ignorantly I answered I'm Yusef Salaam one of the guys they accused of raping a Central Park Five jogger but I didn't do it and to my surprise he says I know that you're not supposed to be here I've been watching you why you are here who are you and it caused me to think about things from this very philosophical position of you know being born finding purpose in life and all of those things that you're always told about from elders and I remember saying to myself man I never knew what the meaning of my name meant…
Transcript 'Yusef Salaam What He Learned From Adversity at min 1:48
The sentence 'I know that you're not supposed to be here' from officier Jerome Jones to Yusef Salaam in prison shows, how cruel justice can be: even if they know you have done nothing wrong, they leave you behind bars, in the case of Yusef Salaam for almost seven years!
English
It's very difficult to find a black cat in a dark room,
especially when there is no cat.
Dutch
Five young boys of color
who did nothing wrong
fabricated in prison!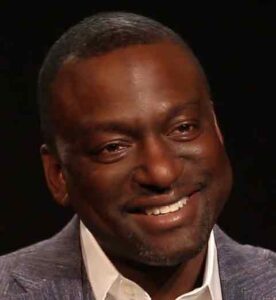 English
It is unusual that such a thing was said in prison:
'I know that you're not supposed to be here'
Yusef Salaam, barely 15, seven years behind bars, despite knowing he had nothing to do with it!
What was decided does not apply to the person, everyone knows.
It is dead simply not about the person but about an intrinsic skewed justice system.
Justice becomes inadequate, unworkable and useless.
Dutch
Justice is sometimes a raw reality,

just like the raw reality of life

that so many people and children have to face.

A person is reduced to an outcast.
This is what the website is all about:
a reflection of society, crumbling justice.
The bottlenecks of justice, the sticking points, the credibility and the human tragedy.
Crushing people who have done nothing wrong as a result of an error in the justice system.
2 The definition of justice when things don't end well
1 "I Didn't Know What the Sky Looked Like Any More": Ricky Jackson Exonerated After 39 Years in Jail
http://democracynow.org
– An Ohio man has been freed from prison after spending 39 years behind bars for a crime he didn't commit. Ricky Jackson, a 59-year old African-American man, had been jailed since 1975 on a murder conviction. The prosecution's case was based on the testimony of a 13-year-old witness. After a 2011 investigation, the witness recanted his testimony, saying he had implicated Jackson and two others under police coercion. The witness, Eddy Vernon, said police had fed him the story and threatened to arrest his parents if he didn't cooperate. On Friday, Ricky Jackson was freed after prosecutors dropped the case. With nearly four decades wrongfully behind bars, Jackson is the longest-held U.S. prisoner to be exonerated. He joins us today along with his lawyer, Brian Howe, a staff attorney with the Ohio Innocence Project.
English
What happened to Ricky Jackson at the age of 18 shows in a strutting and degrading way that the life of an ordinary person, who has done nothing wrong, hangs by a thread.

In 1975, a 13-year-old visually impaired boy, under pressure from the police that something would happen to his sick mother, gave a false statement.

35 or 36 years later when he was seriously ill in hospital, he told a priest that he lied. At the hands of this priest, it could be established that Ricky Jackson and the two co-convicts had nothing to do with it.

At the age of 58, Ricky Jackson and the two co-convicts were eventually released.
Dutch
English
Justice can, from one moment to the next, be used as the lever to destroy ordinary people's lives, i.e. to lock them up for years or decades or to create terribly difficult living conditions for them or to connect them on paper to something they have nothing to do with.
Justice as a double-edged sword.
Dutch
2 Before You Judge Someone – WATCH THIS | by Jay Shetty


Gepubliceerd op 13 nov. 2018
This story was inspired by "The Cookie Thief" by Wayne Dyer
3 The Innocence Network (Wrongful Convictions Documentary Marathon) | Real Stories
11 dec 2022

Based on stories from the Innocence Network, a worldwide organization dedicated to exonerating the wrongfully convicted, this four-part series explores the investigations that unjustly led individuals to prison, the battles to revisit their cases, new investigations and the human cost: the emotional impact experienced by those convicted and their families.
1. Barry Gibbs Case: A Vietnam vet maintains his innocence after being accused of strangling a prostitute in 1986.
2. The Lewis Jim Fogle Case: Having already served 34 years for murder and sexual assault convictions, a man has a chance at freedom with DNA testing.
3. The Alan Newton Case
Sentenced to 40 years in prison, a man starts studying law to decipher his file and prove his innocence.
4. The George Toca AKA "Chicken" Case
New Orleans, 1984. A 17-year-old is sentenced to life in prison for his friend's accidental shooting death.