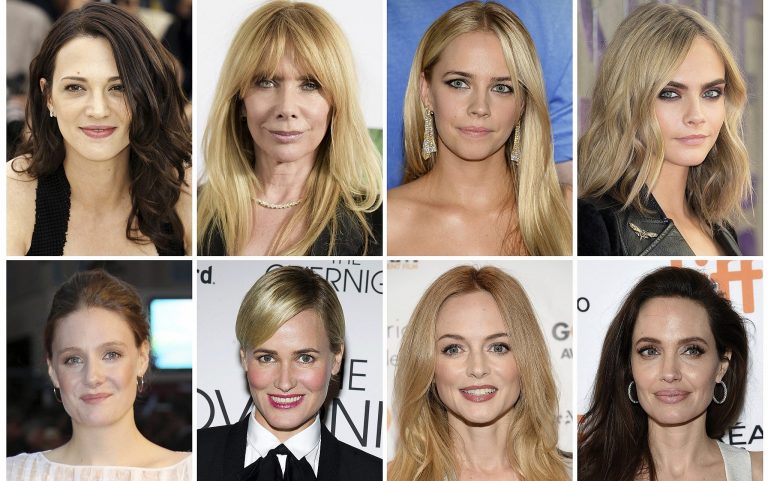 An overview of the key points related to Harvey Weinstein, a former American film producer and convicted sex offender. Here are the main points:
Harvey Weinstein: Harvey Weinstein is a former American film producer who co-founded the film production company Miramax and later The Weinstein Company. He was born on March 19, 1952, in New York City, New York, USA.

Sexual misconduct allegations: In October 2017, numerous allegations of sexual harassment, assault, and rape were made against Harvey Weinstein by multiple women in the entertainment industry. These allegations, which spanned several decades, led to the emergence of the #MeToo movement, which focused on raising awareness about sexual harassment and assault.

Legal actions: As a result of the allegations, Harvey Weinstein faced legal actions. He was charged with multiple counts of sexual assault and rape in New York and Los Angeles, and his trial became a focal point of the #MeToo movement. In February 2020, Weinstein was found guilty of criminal sexual assault and rape in the third degree, and he was sentenced to 23 years in prison.

Conviction and imprisonment: Harvey Weinstein was convicted of sexual assault and rape charges in New York in February 2020 and sentenced to 23 years in prison in March 2020. He was also charged with additional sexual assault charges in Los Angeles, and extradition proceedings were initiated to transfer him to California to face those charges.

Impact on the entertainment industry: The allegations against Harvey Weinstein and his subsequent conviction had a significant impact on the entertainment industry, sparking widespread discussions and actions to address sexual harassment and assault, particularly against women, in the workplace. The #MeToo movement gained momentum, leading to increased awareness, advocacy, and changes in industry practices related to gender equality and harassment prevention.

Cultural significance: The case of Harvey Weinstein has been seen as a landmark moment in the global conversation about sexual harassment, assault, and abuse of power. It has highlighted the need for greater awareness, accountability, and systemic changes to prevent and address such misconduct in various industries and institutions.

Repercussions and aftermath: In addition to legal actions, Harvey Weinstein's actions have had significant repercussions on his career, reputation, and personal life. He has faced financial and legal challenges, and his case has influenced public perception and discussions about power dynamics, gender equality, and sexual misconduct in various contexts.
It's important to note that the details of Harvey Weinstein's case may change over time as new information emerges or legal proceedings evolve. For the most accurate and up-to-date information, it's recommended to refer to reliable sources and official legal documents.
Weinstein (full film) | FRONTLINE
21 jun. 2022
The inside story of how Harvey Weinstein allegedly sexually harassed and abused dozens of women, and the elaborate ways he tried to silence his accusers.
FRONTLINE's documentary investigates the disgraced mogul's spectacular downfall, and what Hollywood itself knew — and when. With allegations going back to Weinstein's early years, the film draws on exclusive insider accounts and examines how Weinstein used lawyers and private detectives to help him suppress sexual harassment allegations.
This journalism is made possible by viewers like you.
How Harvey Weinstein's Sexual Abuse Cover Up Fell Apart | The Backstory | The New Yorker
21 nov. 2017
Ronan Farrow discusses his investigation of the sexual-assault allegations against Harvey Weinstein.
1 Harvey Weinstein's ex-assistant speaks out after guilty verdict – BBC Newsnight

Back to menu
BBC Newsnight
Former movie producer Harvey Weinstein has been found guilty on two counts in his sexual assault trial. Subscribe to our channel here: https://goo.gl/31Q53F
Weinstein faces up to 25 years in prison and will be sentenced in March.
He was convicted on lesser charges of third-degree rape and a criminal sexual act in the first degree but he was acquitted of the most serious charges of predatory sexual assault.
He had denied all charges.
Emily Maitlis is joined by Weinstein's former assistant Zelda Perkins, Labour MP Jess Phillips, #MeToo founder Tarana Burke and and editor-at-large at The Hollywood Reporter Kim Masters to discuss what's next for the Me Too movement.
Interview with Weinstein's lawyer Donna Rotunno – https://bbc.in/2TgoNCY
Interview with Rowena Chiu and Zelda Perkins – https://bbc.in/37WJact
Watch more from Emily Maitlis – https://bbc.in/2T05c9R
Newsnight is the BBC's flagship news and current affairs TV programme – with analysis, debate, exclusives, and robust interviews.
2 Weinstein's lawyer Donna Rotunno on guilty verdict – BBC Newsnight


Back to menu
BBC Newsnight
The lawyer for Harvey Weinstein, nicknamed 'The Rottweiler,' reacts to her client's conviction and says men and women have equal power and responsibility society. Subscribe to our channel here: https://goo.gl/31Q53F
Donna Rotunno is a lawyer specialising in defending men against accusations of sexual assault. Before the verdict in the Harvey Weinstein trial she had lost only once.
Weinstein was found guilty this week of third-degree rape and a first-degree criminal sexual act.
Rotunno, nicknamed 'The Rottweiler', reduced one of the witnesses to tears during her cross examination. She says she is simply asking questions to get the other side of the story.
Emily Maitlis interviewed her about her reaction to the guilty verdict and asked if her view of sexual assault was out of date.
She is also joined by former Harvey Weinstein assistant and accuser Rowena Chiu for her reaction to the conviction and the comments by Rotunno.
Interview with Rowena Chiu and Zelda Perkins: https://bbc.in/37WJact
Watch more from Emily Maitlis: https://bbc.in/2T05c9R
3 Controversial lawyer Donna Rotunno defends Harvey Weinstein | 60 Minutes Australia
24 feb. 2020
To the disgust and disbelief of many, it's been a woman that's been Harvey Weinstein's side every step of the way – his lead attorney Donna Rotunno. Despite being so widely loathed, the forty-four-year-old is steadfast in her belief that Harvey Weinstein is not a rapist, and his accusers are just making all of this up.
4 Weinstein defense attorney Donna Rotunno says media influenced jury
26 feb. 2020
In a legal milestone for the MeToo movement, movie producer Harvey Weinstein was convicted Monday of two felony sex crimes — but acquitted of the most serious ones. How should we interpret the jury's verdict? Donna Rotunno, one of Weinstein's defense attorneys, has represented more than 40 defendants accused of sexual misconduct over the past 15 years, and she joins Amna Nawaz to discuss.
5 Weinstein Attorney Donna Rotunno Reacts to the Verdict on Law & Crime Network
25 feb. 2020
Weinstein Attorney Donna Rotunno Reacts to the Verdict on Law&Crime Network
6 Harvey Weinstein: The fall of the king of Hollywood
25 feb. 2019
Harvey Weinstein was the king of Hollywood – a wealthy and successful movie mogul with 81 Oscars to his name but then something extraordinary happened.
Together, a small group of women decided they had waited long enough to tell their stories of how the once untouchable Weinstein had allegedly abused his power to intimidate, harass and sexually assault them.
It quickly became clear that they had got their timing right, as some of the most famous names in Hollywood came forward alongside dozens of others to accuse him.
This is the story of those who sparked it.
7 WORLD EXCLUSIVE: Harvey Weinstein and his army of spies | 60 Minutes Australia
14 jan. 2020
In a major 60 MINUTES investigation, Liam Bartlett reveals an added level of Weinstein wickedness. To cover up his many crimes, the one-time Hollywood heavyweight had at his disposal a so-called "army of spies". These "agents" collected sensitive and embarrassing information about his victims, which was then used to discredit or shut them up. Among Weinstein's trusted allies was Australian Dylan Howard, who a few days ago went to court to try to stop his part in Bartlett's story being broadcast. Unfortunately for Howard, he failed. Subscribe here:
http://9Soci.al/chmP50wA97J
Full Episodes here
http://9Soci.al/sImy50wNiXL
8 EXCLUSIVE: Inside the Harvey Weinstein trial and his guilty verdict | 60 Minutes Australia
24 feb. 2020
Once upon a time in Hollywood, Harvey Weinstein was an icon. But no more. On 60 Minutes, Tom Steinfort travels to New York to report on Weinstein's trial and the claims and counter-claims making daily headlines around the world. His story includes interviews with alleged victims Ambra Battilana and Rose McGowan, the controversial lawyer in his corner Donna Rotunno, and the spy hired to dig up dirt on his victims, Seth Freedman.
9 Harvey Weinstein sentenced to 23 years on sex crime convictions
10 Dr. Phil Discusses Harvey Weinstein, Sex Addiction
28 okt. 2017
Dr. Phil isn't impressed by Harvey Weinstein's one week in sex addiction therapy.
11 Ambra Battilana leaks damning audio of Weinstein pressuring her in hotel room | 60 Minutes Australia
24 feb. 2020
Speaking exclusively to 60 Minutes reporter Tom Steinfort, Ambra has broken her silence on her experience with Weinstein, violating the million dollar gag-order that was stifling her story. She has leaked a damning audio recording of Weinstein pressuring and threatening her in a New York hotel room. The recording is the smoking gun in holding the Hollywood producer to account.
For forty years, 60 Minutes have been telling Australians the world's greatest stories. Tales that changed history, our nation and our lives. Reporters Liz Hayes, Allison Langdon, Tara Brown, Charles Wooley, Liam Bartlett and Sarah Abo look past the headlines because there is always a bigger picture. Sundays are for 60 Minutes.
12 Affaire Weinstein : histoire d'une omerta #cdanslair 12.10.2017
12 okt. 2017
Depuis la sortie de l'enquête du New York Times jeudi dernier et la publication d'enregistrements par le New Yorker, les témoignages se multiplient contre Harvey Weinstein, le producteur-star de Hollywood, accusé par de nombreuses actrices, mannequins et assistantes, de viols, attouchements, harcèlements sexuels, exhibitionnisme et abus de pouvoir.Rosanna Arquette, Asia Agento, Gwyneth Paltrow, Angelina Jolie, Ashley Judd, Emma de Caunes, Judith Godrèche… Plus d'une vingtaine de femmes se sont exprimées depuis une semaine et les récits glaçants continuent de pleuvoir chaque jour. Le dernier en date étant celui de Léa Seydoux, ce mercredi 11 octobre au Guardian. A chaque fois le même mode opératoire est décrit : elles étaient d'abord contactées par Harvey Weinstein pour un rendez-vous à caractère professionnel – discuter d'un rôle, récupérer un scénario – où était présente une assistante. Puis, le producteur américain se débrouillait pour les isoler dans sa chambre. Depuis les révélations, Harvey Weinstein a été licencié de sa société de production et a annoncé son intention de se faire soigner en Europe, au sein d'une clinique spécialisée dans les addictions sexuelles. De nombreuses célébrités et personnalités politiques ont condamné son comportement. La police de New-York a ouvert une enquête. Mais de nombreuses questions persistent au fur et à mesure que l'affaire prend de l'ampleur : qui à Hollywood savait ? Qui ne savait pas ? Qui a laissé faire ? Est-ce le début d'un grand déballage sur les abus sexuels à Hollywood ? L'affaire est-elle en train d'éclabousser le Parti démocrate américain ? Quelles répercussions politiques ?
Invités :
– Nicole BACHARAN, politologue spécialiste des Etats-Unis
– Thomas SNEGAROFF, historien spécialiste des Etats-Unis
– Marie SAUVION, journaliste Cinéma
– Anne-Cécile MAILFERT, directrice de la Fondation des Femmes
Pas un événement important qui ne soit évoqué, expliqué et analysé dans C dans l'air. Tout au long de la semaine, les deux journalistes donnent les clés pour comprendre dans sa globalité un événement ou un sujet de première importance, en permettant aux téléspectateurs d'intervenir dans le débat ou de poser des questions par SMS ou Internet. Caroline Roux est aux commandes de l'émission du lundi au jeudi et Bruce Toussaint prend le relais le vendredi et le samedi. Diffusion : tous les jours de la semaine à 17 h 45 Rediffusion : tous les jours de la semaine à 22 h 30 Format : 65 minutes Présentation : Bruce Toussaint, Caroline Roux et Axel Tarlé Réalisation : Pascal Hendrick, Jean-François Verzele et Jacques Wehrlin Production : France Télévisions/Maximal Productions
11 jan. 2019
Woah, these are some BADLY tanned cops. We are not jealous of that!