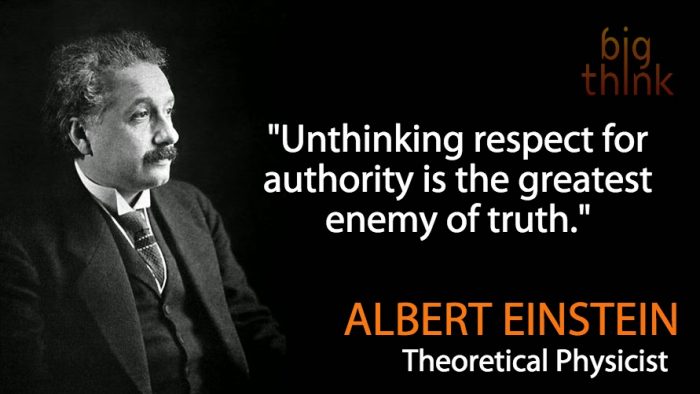 unthinking
adjective formal mainly disapproving
not based on serious thought or an examination of the information:
What annoys me about these people is their unthinking hostility to anything foreign or unfamiliar.
Cambridge Dictionary
English
When someone places authority above conscience, you get arbitrariness, like Diederik Stapel choosing the wrong path and turning his head, bit by bit, to his own advantage, only to end up with a fatal accident" (Part 2 of this website).
It happens that one is mistaken about someone and that one does not expect such a thing from a certain person.
A judge has a mandate from society, is appointed for a service to society, to form an idea about what is put before him.
He is like a scientist, who presents findings in the form of a study.
If he does not know all the facts, he may be mistaken.
The assumption, the perception that a judge is careful and makes sometimes tearing considerations for himself in all integrity, on how to deal with an issue, this is not always the reality.
In a video by Harvard professor Garry Gray Trust in research – the ethics of knowledge production – we note that a scientist is a human being and can make 'compromises' and is not necessarily 'independent'.
The possibility exists that we end up with an erroneous representation of findings, influenced among other things by environmental factors (explained on the webpage Herald of Free Enterprise 1987).
The moral compass, guided by inspiration, is a look at what uplifts and moves a person in spirit. One has good intentions towards a person, who is put in difficulty, for example
on the basis of characteristics attributed to him, which are clearly not there,
i.e. a false accusation and so on.
If something is not right there are always clues. Then one can say this is strange. One can start thinking, to come to the right conclusion. This is the intention.
King Solomon is a metaphor of a righteous judge who does not allow himself to be misled by people who are on opposite sides and who do know what the reality is, but present a wrong picture.
For example, in a former Verwilgen commission, the chairman said to two people who were sitting in front of him and who said the opposite: "one of you is not telling the truth". This was very clear.
If what should be done is not done, we get meaningless justice. So what is the meaning of justice?
When justice fails, as a result of its misuse, the way it is used, it is at odds with society, it is at odds with the reality of life. Unreliable justice is unlivable. This kind of alienation from justice has no meaning. It is arbitrary.
It is horrifying, shocking that it is possible for the justice system to lose its balance, to dislocate, crumble and be disrupted, and for people who are beyond reproach to suddenly disappear into prison. When their lives are broken, it is established: it is the wrong person.
A single element can cause a domino and your life is over,
without reason, trigger or cause.
The menu item Baffling contains a library of more than 30 web pages, hundreds of cases where the justice system has gone stupidly off the rails with existential consequences.
The loopholes, the traps, the backdoors to break the balance, to disrupt justice.
In other words, we have the monster of keeping up appearances, completely incongruous and pointless.
People of good character who cannot face justice are crushed, a burden on society. This is inadmissible. Even absolutely inadmissible.
Why are standard-bearers in the judiciary and in society too reticent to acknowledge in all honesty that there may be hiccups in such an event, and to faithfully follow the dialogue of engagement, saying 'problems are there to be solved'. Fair is fair.
Sometimes those responsible have no choice but to conclude: the judiciary did not do its best, the entities relied upon did not pay attention, despite clarity being evident, but they did not take it into account.
Sometimes a matter is very simple and yet, for many reasons, the justice system makes a complete mistake.
For example, if justice can so easily be lured into a trap, into a fact unknown to justice, justice can be totally wrong.
The basic question that everyone can always ask themselves (especially if it is important) is: is there anything unclear?
A made-up story or a construction can get people in trouble, because people with a good character then come into contact with the justice system for no reason or no touch point, and that is where things can go wrong.
The basis in life is that a person in trouble – especially when the trouble is incongruous and could not occur – that you have to be able to talk to someone in those circumstances.
This is the weakest point.
It creates a false negative spiral. Even to the extent of blocking the course of justice.
Justice becomes abjectly destructive, without reason or cause, despite tangible, visible data, contrary to the responsibility attached to justice, and the abject wrong is not stopped despite this.
In precarious circumstances, it is sometimes the case that a person in a weak position cannot talk to someone in confidence, because the necessary action would be taken.
Dutch