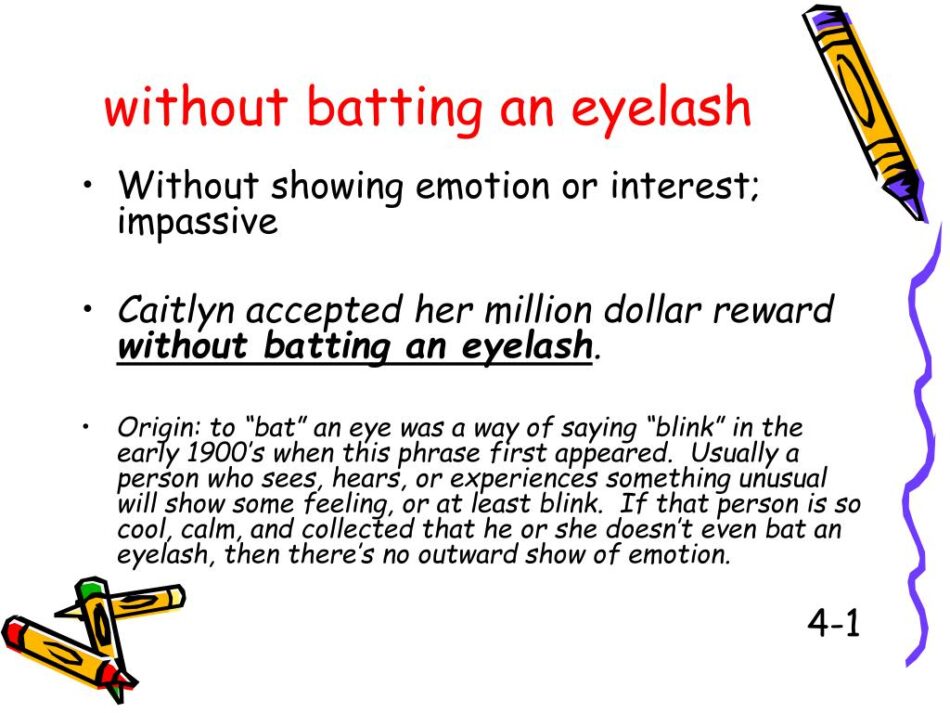 Without batting an eye
Not bat an eye/eyelash
To show no sign of surprise or worry when something unexpected happens
She told him she'd spent all her savings but he didn't bat an eye.
Cambridge Dictionary
The English expression that is similar in meaning to the Dutch saying "zonder blinken of blozen" is "without batting an eye" or "without batting an eyelash."
Both of these phrases convey the idea that someone remains calm and composed in a situation where others might expect a reaction of surprise, embarrassment, or emotion.
The phrase "without batting an eye" is an idiomatic expression in English that is used to describe someone's reaction to something unusual, surprising, or shocking. When someone does something "without batting an eye," it means they remain calm and composed, showing no outward signs of surprise or emotion. Here are the key points associated with this phrase:
Calmness: The phrase suggests that the person in question remains calm and composed in the face of unexpected or shocking situations.

Lack of emotional reaction: "Without batting an eye" implies that the individual doesn't display any visible emotional response, such as widening their eyes in surprise or showing shock.

Unflappable demeanor: People who can handle surprising or challenging situations "without batting an eye" are often seen as unflappable or unfazed by adversity.

Stoicism: It reflects a sense of stoicism, where a person doesn't let their emotions or facial expressions betray their inner feelings.

Resilience: It can also suggest a degree of resilience, as the person can handle adversity or unexpected events without becoming overly distressed.
Overall, "without batting an eye" describes someone who can maintain a cool and composed demeanor even when faced with surprising or challenging circumstances.
English
When one uses the word 'justice' to engage in wrongful deeds, in other words, one acts entirely arbitrarily without reason and is fully aware of this, they are not a suitable person to be part of the entities of justice – justice and reality come face to face.
In an incomprehensible way, people find themselves in opposition to each other.
You have someone living in a different world with a wrong mindset.
It is an extreme situation because there are no connections to what they purport to stand for, and the person not only lacks the qualities that fit such a role but possesses pronounced traits that are diametrically opposed.
Without batting an eye, someone with good character becomes a villain.
Dutch
4 mei 2011
An old man asks for help in moving a very heavy box, and proceeds to walk to his car as slow as humanly possible. Then it turns out the old man wasn't injured at all, just lazy.
JFL British Edition is a presentation of JustForLaughsTV, the official Just For Laughs Gags YouTube channel. Home of the funniest, greatest, most amazing, most hilarious, win filled, comedy galore, hidden camera pranks in the world!