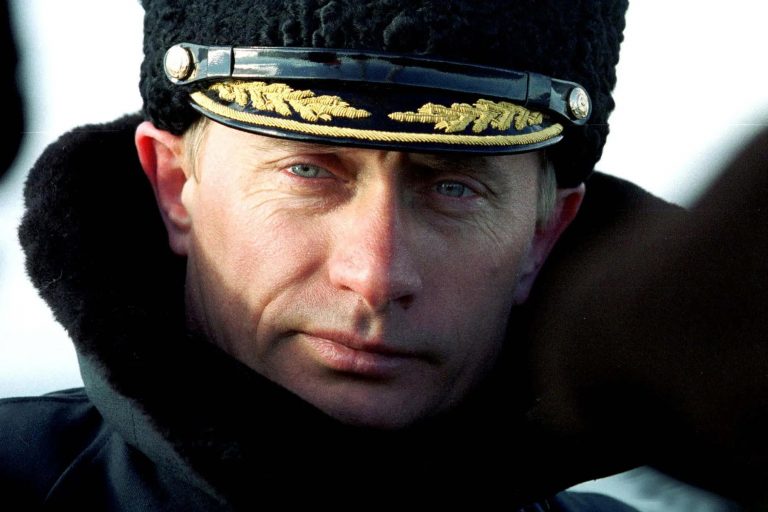 5 jul. 2019
The Financial Times is the first major international newspaper to be granted an interview with the Russian leader for 16 years. Here is the exclusive interview with editor Lionel Barber and Moscow bureau chief Henry Foy in full
0:00:08 How has the world changed over the last 20 years?
0:01:49 Has the world become more fragmented?
0:02:27 What do you want to achieve in Osaka?
0:04:31 OPEC oil production agreements
0:07:27 How does Trump compare to other US presidents?
0:10:54 Trump's criticisms of European alliances
0:15:10 Globalisation vs 'America First'
0:16:25 Russia and China's relationship
0:21:02 Danger of tensions between Russia America and China
0:24:05 Arms control
0:26:45 Potential for nuclear agreements
0:28:08 China's maritime strength
0:30:45 North Korea
0:33:06 North Asia security situation
0:34:42 Has your appetite for risk increased?
0:36:51 Intervening in Syria
0:42:13 Venezuela
0:50:15 Anglo-Russian relations post Skripal
0:55:32 Did what happened in Salisbury send an unambiguous message to anyone who is thinking of betraying the Russian state that it is fair game?
0:57:04 Russia's economy and foreign exchange reserves
1:04:18 Russia's macro economic stability – oligarchs
1:06:05 Breakup of the Soviet Union vs China's anticorruption campaign
1:09:30 Can Russian remain immune to backlashes against the establishment?
1:14:30 Did Angela Merkel make a mistake?
1:18:32 The end of the liberal idea
1:21:15 Religion is not the opium of the masses?
1:21:49 Is now the time for illiberals?
1:24:33 Who do you most admire?
1:26:10 How will your successor be chosen?
26 okt. 2017
Watch former Obama adviser Antony Blinken's candid, full interview on Putin and allegations of Russian interference in the 2016 U.S. election –all part of "The Putin Files", FRONTLINE's media transparency project.
18 dec. 2020
During his annual end-of-year news conference, Vladimir Putin was asked about relations between Russia and the West.
The BBC's Steve Rosenberg asked the Kremlin leader whether Russian authorities consider themselves "white and fluffy" – a Russian expression which means squeaky clean – when it comes to accepting responsibility for worsening ties.
Mr Putin struck a defiant tone in an exchange with our correspondent when asked about Russia's role in the poisoning of Alexei Navalny, the country's most prominent opposition activist.
22 apr. 2021
Across Russia Wednesday, protesters took to the streets in support of the jailed — and critically ill — opposition leader Alexei Navalny. They denounced the man they blame for his imprisonment, President Vladimir Putin. Amna Nawaz discusses the latest with Celeste Wallander, who was the senior director for Russia and Eurasia on the National Security Council staff under the Obama administration.
15 jun. 2022
From the KGB to the Kremlin—what has shaped President Vladimir Putin and how has he shaped Russia?
6 Russian oligarch puts million-dollar bounty on Vladimir Putin's head | 60 Minutes Australia
13 mrt. 2022
In times of war, you need to strike where it hurts. So as Vladimir Putin continues to bombard Ukraine, the west has decided his Achilles heel is his hip pocket. Crippling economic sanctions have been imposed not just on Russia, but critically also the inner circle of multi-billionaire oligarchs who supposedly protect Putin's power. Their superyachts and mansions around the world have been seized, and their bank accounts frozen. It's a tactic that appears to be working, with the President's pals now doing the unthinkable and turning on him.
7 Putin's gang: The oligarchs and strongmen protecting the Russian president • FRANCE 24 English
17 mrt. 2022
Who are the people keeping Vladimir
#Putin
in power? Much is made of the
#oligarchs
and their billions of dollars. Their support has been vital to keeping Putin financed. But how is Putin's influence protected? This is now down to his Saint Petersburg friends: a collection of hard men who are in positions of power that they own to Putin. If Putin is to be deposed, or even more unlikely, democratically voted out of power, these "strongmen" will do everything to stop that. Our panel discuss how
#democracy
, freedom and the truth are squashed in Russia today.
10 mrt. 2022
What is the relationship between Russia's oligarchs and Putin's government? How has this relationship evolved since Putin rose to power? And what is the limit of their loyalty? Bill Browder, along with others, explain how Russia's oligarchs work and the end game of sanctions against them.
9 Browder on Putin: When You Believe Your Time Is Almost Up, You Start a War | Amanpour and Company
1 mrt. 2022
Unprecedented sanctions have sent the Russian ruble tumbling. The U.S. has now cut off Russia's central bank from its $630 billion so-called sanctions-proof fund. Bill Browder is CEO of Hermitage Capital and the architect of the Magnitsky Act, used by President Biden to impose sanctions on Vladimir Putin and his oligarch cronies. Browder speaks with Walter Isaacson about the tactic of cutting Putin off from his wealth.
Originally aired on February 28, 2022
—————————————————————————————————————————————-
Amanpour and Company features wide-ranging, in-depth conversations with global thought leaders and cultural influencers on the issues and trends impacting the world each day, from politics, business and technology to arts, science and sports. Christiane Amanpour leads the conversation on global and domestic news from London with contributions by prominent journalists Walter Isaacson, Michel Martin, Alicia Menendez and Hari Sreenivasan from the Tisch WNET Studios at Lincoln Center in New York City.
10 Bill Browder interview on Putin, crime & Russian corruption | Unfiltered with James O'Brien #7
14 nov. 2017
Bill Browder is Vladimir Putin's No. 1 enemy. Armed with a true life story cut straight from a bestselling thriller, listen as Bill grippingly recounts a tale which sees him placed on Interpol's most-wanted list, expose crime, corruption and conspiracy at the highest levels of the Kremlin, and rededicate his life to find justice for his friend Sergei Magnitsky, killed at the hands of the Russian government. There's also the small matter of a missing $230 million. Buckle in | JOE.co.uk
In première gegaan op 5 mrt. 2022
In this episode of Influencers, Andy is joined by Hermitage Capital Management CEO, Bill Browder, as they discuss possible consequences of the Russia-Ukraine conflict and why Browder says 'there is no endgame' for Vladimir Putin.
12 WATCH | 'Vladimir Putin doesn't have a reverse gear' – Bill Browder at Franschhoek Festival
1 mei 2022
In 2005 verklaarde Vladimir Poetin de Amerikaanse zakenman Bill Browder als een bedreiging voor de nationale veiligheid. Over zijn strijd met de Russische president schreef hij het boek Achtervolgd door de staatsmaffia, dat afgelopen maand verscheen. Hoe kijkt Browder aan tegen het leiderschap van Poetin, de oorlog in Oekraïne, de geldstromen op de Amsterdamse Zuid-as en de politieke situatie in Nederland? 
Over Buitenhof: Buitenhof bespreekt politiek en actualiteit in diepte-interviews, debatten of discussies. Met gezaghebbende gasten uit binnen- en buitenland, van politici en CEO's tot originele denkers. Je ziet ons elke week live op zondag, 12.10 op NPO1.
27 mrt. 2022
Wie is Poetin? En waarom is hij deze oorlog gestart? Michail Chodorkovski werd de rijkste man van Rusland in de jaren 90, maar aan zijn luxeleven kwam in 2003 een einde toen hij in aanvaring kwam met Poetin. Na tien jaar strafkamp strijdt hij voor democratie in Rusland. Hoe kijkt hij naar het handelen van Poetin?
3 nov. 2016
De man achter Putin | Lezing door sociaal en politiek filosoof Evert van der Zweerde Maandag 6 juni 2016 | LUX, Nijmegen
Wat drijft Vladimir Putin? Waar komt hij vandaan en wat heeft hem gevormd? Hoe belangrijk is "de man Putin"? En hoe machtig is hij eigenlijk?
00:00:10
Opening door programmamaker Dave Willems
00:01:14
Lezing door filosoof Evert van der Zweerde
De Russische president Putin is voor velen die ondoorgrondelijke man die zo nu en dan de confrontatie met het Westen opzoekt. Onder zijn leiding claimt Rusland zijn eigen plek op het wereldtoneel, met een beleid waarin de Russische wereld en Eurazië centraal staan. De inmenging in het conflict in Syrië, de annexatie van de Krim, een nationaal pro-gezin, anti-Westers en anti-homo – beleid, zijn slechts een paar voorbeelden van deze "eigen" weg.
2 okt. 2018
On September 27, 2018, Yale's Program in Russian, East European and Eurasian Studies, and the Poynter Fellowship for Journalism hosted Vladimir Pozner, the acclaimed Russian-American journalist and broadcaster. Pozner spoke on the impact of US foreign policy towards Russia after the Soviet Union has been disbanded, and shared his opinions on a range of issues raised by the audience, from the alleged Russian interference in the 2016 US presidential elections, to Skripal poisoning, to the state of independent media in Russia and the US.

Featuring Bill Browder, CEO of Hermitage Capital Management, discussing his new book Red Notice: A True Story of High Finance, Murder, and One Man's Fight for Justice.
About the Book:
A real-life political thriller about an American financier in the Wild East of Russia, the murder of his principled young tax attorney, and his dangerous mission to expose the Kremlin's corruption.
Bill Browder's journey started on the South Side of Chicago and moved through Stanford Business School to the dog-eat-dog world of hedge fund investing in the 1990s. It continued in Moscow, where Browder made his fortune heading the largest investment fund in Russia after the Soviet Union's collapse. But when he exposed the corrupt oligarchs who were robbing the companies in which he was investing, Vladimir Putin turned on him and, in 2005, had him expelled from Russia.
In 2007, a group of law enforcement officers raided Browder's offices in Moscow and stole $230 million of taxes that his fund's companies had paid to the Russian government. Browder's attorney Sergei Magnitsky investigated the incident and uncovered a sprawling criminal enterprise. A month after Sergei testified against the officials involved, he was arrested and thrown into pre-trial detention, where he was tortured for a year. On November 16, 2009, he was led to an isolation chamber, handcuffed to a bedrail, and beaten to death by eight guards in full riot gear.
Browder glimpsed the heart of darkness, and it transformed his life: he embarked on an unrelenting quest for justice in Sergei's name, exposing the towering cover-up that leads right up to Putin. A financial caper, a crime thriller, and a political crusade, Red Notice is the story of one man taking on overpowering odds to change the world.
(Amazon)
About the Author:
Bill Browder, founder and CEO of Hermitage Capital Management, was the largest foreign investor in Russia until November 2005. Browder has been leading a worldwide campaign using media, political, and legislative tools to expose the corruption, rule of law, and human rights abuses committed by Russian government officials. Browder is a 2001 Henry Crown Fellow of The Aspen Institute and a member of the Aspen Global Leadership Network.
20 feb. 2018
Moeten we bang zijn voor Rusland? Prof Herman Philipse gaat in gesprek met schrijver en correspondent Pieter Waterdrinker.
In een paar jaar tijd annexeerde Poetin de Krim. Hij joeg het conflict in Oost-Oekraïne aan, en werd een cruciale speler in de Syrische burgeroorlog. Rusland doet er alles aan om het Westen te ondermijnen. Of is dat een waanbeeld? Hoe kunnen we Poetins machtsvertoon begrijpen?
Verder kijken en lezen? www.sg.uu.nl
© Copyright Studium Generale Doorplaatsen uitsluitend met toestemming en onder vermelding van link en Studium Generale.
8 feb. 2019
The inside story of Russian President Vladimir Putin's conflict with the United States.
8 feb. 2019
The inside story of how Vladimir Putin came to see America as an enemy.
26 feb. 2022
Londen is sinds het begin van deze eeuw een toevluchtsoord van rijke Russische oligarchen die dichtbij Vladimir Poetin staan. Tim de Wit legt uit wie deze machtige mensen zijn.
23 apr. 2022
Al twee maanden is het oorlog in Europa, en al net zo lang zijn sancties van kracht tegen rijke Russen. Maar worden wel de juiste mensen geraakt? NOSop3 legt uit.
Voor deze video werkten we samen met Helga Salemon, Rusland-onderzoeker bij The Hague Centre for Strategic Studies en met Niels Drost, onderzoeker bij het Clingendael Instituut.
9 apr. 2022
Poetin dreigde onlangs met kernwapens. Zulke dreigementen kennen we vooral uit de Koude Oorlog, toen er nog bunkers waren voor het geval de bom zou vallen. De meeste bunkers zijn verdwenen, maar de nucleaire dreiging is terug. Maar hoe groot is die?
Dit is een reportage van: Zainab Hammoud & Leendert de Keijzer.
12 mrt. 2022
Poetin wordt gezien als één van de gevaarlijkste wereldleiders van dit moment. Hij is al meer dan 20 jaar lang aan de macht in het grootste land van de wereld. Maar hij vindt het nog niet groot genoeg. Op 24 februari begon hij een oorlog tegen Oekraïne. We krijgen van jullie heel vaak de vraag waarom hij dit doet. Daarom hebben we een hele Uitgezocht over Vladimir Poetin gemaakt.
8 jan. 2022
De spanningen aan de grens tussen Rusland en Oekraïne nemen toe. Rusland heeft zo'n 100.000 zwaarbewapende militairen naar het gebied gestuurd. Om te begrijpen waarom moet je snappen hoe de Russische president naar de wereld kijkt. Leggen we je in deze video uit.
Met dank aan het Museum Bescherming Bevolking in Rijswijk, en aan Tjeerd Ritmeester van Instituut Clingendael voor zijn kennis en expertise.
5 mrt. 2022
De Russische miljardair Abramovitsj was afgelopen week in het nieuws omdat hij zijn voetbalclub Chelsea te koop heeft gezet. Hij heeft ook een paar jachten, moet hij zich zorgen maken? Quote-hoofdredacteur Paul van Riessen heeft het antwoord.
4 nov. 2009
Bill Browder, MBA '89, founder and CEO, talks about Hermitage Capital Management's investments in Russia and the fall out from the widespread corruption that still pervades Russia's economy. Recorded: Oct. 22, 2009
11 jul. 2022
Mikhail Khodorkovsky was once the richest man in Russia until he challenged Vladimir Putin and was sent to jail for 10 years. Now, he has advice for Western leaders trying to deal with his former adversary, telling CBC's Terence McKenna that a show of strength is key.
4 mei 2022
Bill Browder gets my vote. I hope the Magnitsky Act continues to grow & its effectiveness.
33 Bill Browder is convincing the world that Vladimir Putin will stop at nothing to remain in power
13 apr. 2022
Katie talks with Bill Browder, author of "Freezing Order: A True Story of Money Laundering, Murder, and Surviving Vladimir Putin's Wrath", who spent a portion of his career as an investor in Russia before becoming the main thorn in Vladimir Putin's side. Browder and his associate, tax lawyer Sergei Magnitsky, discovered corruption among Russian oligarchs in the early 2000s, and attempted to expose the powerful men and the plot to extort 230 million dollars worth of Russian tax money. Instead, Browder was expelled from Russia and Magnitsky was imprisoned, and eventually killed in detention in 2009. Since then, Browder has waged a war to expose the corrupt officials behind Magnitsky's death. In 2012, he was able to get The Magnitsky Act passed in the U.S., which is able to freeze the assets of targeted individuals, sanction human rights offenders, and ban them from entering the United States.
34 What Everyone Needs to Know about Russia Under Putin – FPRI's 2018 Champagne Brunch for Partners
Back to menu         IMPORTANT CONTENT
Stephen Kotkin
April 22, 2018
On this special occasion, we were pleased to feature our new Eurasia Fellow for 2018, Stephen Kotkin, an outstanding lecturer and scholar. Professor Kotkin has been teaching in the History Department at Princeton since 1989, and holds a joint appointment at Princeton's Woodrow Wilson School for Public and International Affairs, where he has been vice dean.
Two volumes of his trilogy on Stalin have been published to critical acclaim — Stalin: Paradoxes of Power (2014) and Stalin: Waiting for Hitler (2017) – as have his earlier books, Uncivil Society: 1989 and the Implosion of the Communist Establishment (2009); Armageddon Averted: The Soviet Collapse (2008), and Magnetic Mountain: Stalinism as a Civilization (1995).
He writes frequently on Russian and Eurasian affairs for The New Yorker, The New York Times, the Financial Times, and the Washington Post.
2 mei 2022
Exclusive: Hermitage Capital CEO talks about Russia, Ukraine, and his new book.
In this wide-ranging and solemn conversation, Bill Browder explains his take on Russia's strategic military failures, Vladimir Putin's state of mind, and his struggle to expose what he believes are the crimes of the most corrupt country on Earth.
26 apr. 2022
Bill Browder has reluctantly become a central figure in Russia's invasion of Ukraine. He has been on a mission to impose sanctions on Russian's ill-begotten gains for about a decade. Now that his weapon of choice is being used to freeze the assets of Russian dirty money – the Magnitsky act – is it too little too late? His latest book, "Freezing Order: A True Story of Money Laundering, Murder, and Surviving Vladimir Putin's Wrath."
7 apr. 2022
Russia is the largest exporter of natural gas globally and the second largest producer behind the U.S. But despite sparking the largest military conflict in Europe since World War II, Russia's natural gas continues to flow through Ukraine to the rest of the continent. The EU receives about 40% of its natural gas from Russia, about a quarter of that flows through Ukraine. So what role does natural gas play in the tensions between Russia and Ukraine and how are Europe and the U.S. impacted?
0:00 – Intro
01:52 – Ch 1. Conflict with Ukraine
05:30 – Ch 2. Ukrainian pipelines
08:35 – Ch 3. Strained relations
11:23 – Ch 4. U.S. natural gas
26 feb. 2022
In this video, we'll try & understand why Russia launched a full-scale military attack on Ukraine. And what story or narrative is being passed on to other countries in the world.
9 feb. 2022
Vladimir Putin has already annexed Crimea and plunged Donbas into war. Now, he has amassed 100,000 troops at the Ukrainian border. Why can't Russia leave Ukraine alone?
00:00 – The world's eyes are on Ukraine
00:55 – Russia and Ukraine's shared history
02:08 – Caught between Russia and the West
04:04 – Ukraine's post-independence struggles
06:30 – Putin's domestic issues
07:47 – Will Putin invade Ukraine?
26 feb. 2022
Who is the Russian President, and what does he want with Ukraine?
Vladimir Putin is the President of Russia, and has been the country's leader for more than 22 years.
He grew up in an area which is now St Petersburg. His political career began when he and his family moved to Moscow in 1996, and he quickly became an important political figure.
The BBC's Ros Atkins looks at Putin's life and his world view – and how they influence the decision he took this week.
19 mei 2014
In this Uncommon Knowledge, Hoover fellow Peter Robinson speaks with former US ambassador to Russia, Hoover senior fellow, and Stanford political science professor Michael McFaul. McFaul discusses Russian president Vladimir Putin's complex and evolving rhetoric and strategic objectives, emphasizing recent developments in the US-Russia relationship, Putin and former US Russian president Dmitry Medvedev, and Ukraine's strategic importance to Russia.
43 How I figured out the Achilles heel of Vladimir Putin | William Browder | TEDxBerlin
Back to menu        IMPORTANT CONTENT
Gepubliceerd op 14 aug. 2018
For more information on William Browder, please visit our website www.tedxberlin.de. xxx This talk was given at a TEDx event using the TED conference format but independently organized by a local community.
5 dec. 2014
In 2001, the Kiev-born but British-raised Pomerantsev went to Russia to study filmmaking, though he intended to pursue a second, unofficial, major in Putin's Russia itself. This report on a decade in his homeland intertwines what he learned and witnessed about performance and contemporary Russian culture in ways often unpredictable and always spectacular. (PublicAffairs)
Founded by Carla Cohen and Barbara Meade in 1984, Politics & Prose Bookstore is Washington, D.C.'s premier independent bookstore and cultural hub, a gathering place for people interested in reading and discussing books. Politics & Prose offers superior service, unusual book choices, and a haven for book lovers in the store and online. Visit them on the web at
http://www.politics-prose.com/
23 apr. 2012
Little magician is left with some strangers at the food court. The adults in charge doubtfully watch him attempt a street magic trick a la David Blaine : before their eyes, he turns the puppy into a croissant and then teleports the poor little dog straight in the microwave. Apparently the doggy survived the microwave radiations.
A presentation of JustForLaughsTV, the official Just For Laughs Gags YouTube channel. Home of the funniest, greatest, most amazing, most hilarious, win filled, comedy galore, hidden camera pranks in the world!