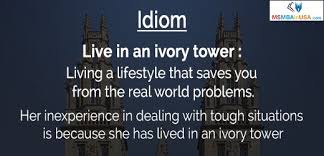 (disapproving)
A place or situation where you are separated from the problems and practical aspects of normal life and therefore do not have to worry about or understand them:
Academics living in ivory towers
Oxford advanced Learner's Dictionary 7th edition
23 sep. 2015
Het is een rechtszaak die geruchtmakend werd door de boze vader die uit woede om de uitspraak een stoel naar de rechter gooide. De boosheid maakte vandaag plaats voor opluchting, nu de verdachte toch de cel in gaat. "Wij hopen dat deze zaak een voorbeeld wordt voor andere zaken."
25 jan. 2017
Mr. Sullivan discusses his time as a public defender in DC and what he learned from a particularly memorable case. Ronald S. Sullivan Jr. is a law professor at the Harvard Law School. Sullivan graduated Phi Beta Kappa from Morehouse College in 1989 and received his J.D. from Harvard Law School in 1994.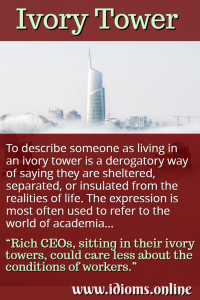 17 mrt. 2011
A girl needs to deliver a giant spider by taxi but ends up just throwing it through the window scaring the hell out of some taxi drivers.
A presentation of JustForLaughsTV, the official Just For Laughs Gags YouTube channel. Home of the funniest, greatest, most amazing, most hilarious, win filled, comedy galore, hidden camera pranks in the world!