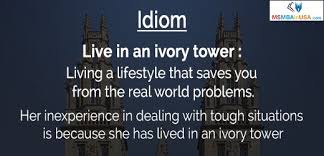 (disapproving)
A place or situation where you are separated from the problems and practical aspects of normal life and therefore do not have to worry about or understand them:
Academics living in ivory towers
Oxford advanced Learner's Dictionary 7th edition
The expression "The Ivory Tower" is a metaphorical term that has been used in various contexts to convey different meanings. The key points associated with "The Ivory Tower" include:
Intellectual or Academic Isolation: "The Ivory Tower" is often used to refer to a state of intellectual or academic isolation, where scholars, academics, or intellectuals are detached from the practical concerns of the real world and live in an isolated, idealistic, or impractical realm of their own. It may imply a sense of being disconnected from the realities of everyday life or lacking practicality.

Privileged or Elitist Position: "The Ivory Tower" can also convey a sense of privilege or elitism, suggesting that those who inhabit it are isolated from the concerns of ordinary people and are removed from the struggles and challenges faced by the general population. It can imply a sense of detachment or aloofness from the common people or their struggles.

Academic or Artistic Pursuits: "The Ivory Tower" can refer to the pursuit of academic or artistic endeavors, particularly in a pure, idealistic, or impractical manner. It may imply a focus on abstract or theoretical concepts without consideration of real-world applications or consequences, or a preoccupation with academic or artistic achievements at the expense of practical considerations.

Critique of Disconnect from Reality: "The Ivory Tower" can be used as a critique of a perceived disconnect from reality or a lack of practicality in a particular context, such as academia, politics, or other areas where detachment from practical concerns may be seen as problematic or out of touch.

Positive Connotation: On the positive side, "The Ivory Tower" can also connote a place of intellectual or artistic excellence, where scholars or artists pursue their passions and produce high-quality work. It can symbolize a pursuit of knowledge, creativity, and idealism without being hindered by practical constraints.

Contextual Interpretation: The meaning and connotations of "The Ivory Tower" can vary depending on the context in which it is used. It can carry different nuances in different situations, and its interpretation may be influenced by the speaker's perspective, intention, and the specific context in which it is employed.
Overall, "The Ivory Tower" is a metaphorical expression that can convey different meanings depending on the context, including notions of intellectual isolation, elitism, academic or artistic pursuit, critique of disconnect from reality, or positive connotations of excellence and idealism.
1 Commotie in rechtszaal na uitspraak
2 Frustratie maakt plaats voor opluchting bij ouders – RTL NIEUWS
23 sep. 2015
Het is een rechtszaak die geruchtmakend werd door de boze vader die uit woede om de uitspraak een stoel naar de rechter gooide. De boosheid maakte vandaag plaats voor opluchting, nu de verdachte toch de cel in gaat. "Wij hopen dat deze zaak een voorbeeld wordt voor andere zaken."
3 Can a Good Lawyer be a Good Person? | Ronald Sullivan | TEDxBeaconStreet
25 jan. 2017
Mr. Sullivan discusses his time as a public defender in DC and what he learned from a particularly memorable case. Ronald S. Sullivan Jr. is a law professor at the Harvard Law School. Sullivan graduated Phi Beta Kappa from Morehouse College in 1989 and received his J.D. from Harvard Law School in 1994.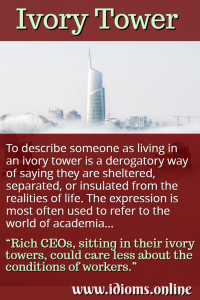 17 mrt. 2011
A girl needs to deliver a giant spider by taxi but ends up just throwing it through the window scaring the hell out of some taxi drivers.
A presentation of JustForLaughsTV, the official Just For Laughs Gags YouTube channel. Home of the funniest, greatest, most amazing, most hilarious, win filled, comedy galore, hidden camera pranks in the world!