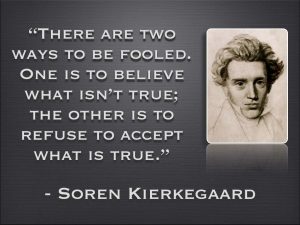 To tell someone something that you know is completely false:
He asked me how old I was and, lying through my teeth, I said "29".
Cambridge Dictionary
Liegen dat je zwart ziet
Stop lying through your teeth, I know you were there
 Analysis
This idiom means to tell somebody something that you know to be completely false or untrue. To 'lie through your teeth' is to lie deliberately, without shame. The force of this expression means that to accuse someone of doing so can lead to conflict. That's why you would generally only say it to, or about, a person you are absolutely certain is lying. As the video shows, this expression is common in both a social and professional context and is similar to the phrases 'tell a pack of lies,' 'lie to one's face' and 'a barefaced lie'.
 Social Examples (Basic)
Adam told me he wasn't at the party last night, but I know he's lying through his teeth because there are pictures of him there.
I had to lie through my teeth to the police so they wouldn't give me a fine. I'm surprised I got away with it.
 Professional Examples (Basic)
I lied through my teeth in the interview and said that I have a lot more experience than I really do, so I could get the job.
Politicians in this country can not be trusted. They are well known for lying through their teeth and making promises they don't keep.
 'A barefaced lie': a shameless falsehood told without trying to hide it
he/she told a barefaced lie
 Analysis
 'A barefaced lie' is a lie that is told without any attempt at concealment. The implication is that the person who tells 'a barefaced lie' is aware that others might know they are lying or will probably find out. This term usually has a negative connotation and is used in social contexts more than professional ones. Similar in meaning to 'lie to your face'.
 Social Examples (Advance)
The mother knew her son's explanation for the broken window was a barefaced lie.
"That's a barefaced lie," the lawyer told the court after the defendant's testimony.
 Professional Examples (Basic)
The HR Manager was angry when the accusation was made against her. The employee was telling barefaced lies about what she had said.
Only a little white lie: an untruth presumed to be harmless
 Analysis
'A white lie' is usually a lie intended to protect someone's feelings. White lies are generally understood to be harmless or have no serious repercussions. This is a term used in social and professional contexts. Similar expressions include 'tell a fib', or 'to be fibbing'.
 Social Examples (Basic)
It was only a little white lie, he's forgotten all about it already.
Instead of the truth, I told her a little white lie that her gift was still in the delivery process.
 Professional Examples (Basic)
Don't worry about the advertising campaign. It's not illegal. It's just a little white lie to attract customers.
Sometimes you have to tell little white lies to your employees to increase their confidence.
A discrepancy: a difference between two or more things that should be the same
 Analysis
A discrepancy can refer to incompatibility or a lack of similarity between two facts or two things that should be the same.
 Social Examples (Basic)
There is a discrepancy between your account of what happened and Brian's, so one of you is lying.
I'd like to discuss my bill with you. there are a couple of discrepancies I'd like to clarify.
 Social Examples (Advance)
There were a number of discrepancies in the statement the suspect gave to the police which only served to increase the suspicion of guilt around him.
It's important to document any breaches of procedure straight away in case there are discrepancies in accounts later on.
 Professional Examples (Advance)
At the AGM, shareholders questioned the CEO on the discrepancy between the bonus he reported to have received, and the actual amount listed in the company accounts.
Alternatives
Lying to your face
Lying to yourself
Lying to the naked eye
16 jan. 2019
A woman just can't eat ice cream without men thinking that she is flirting.